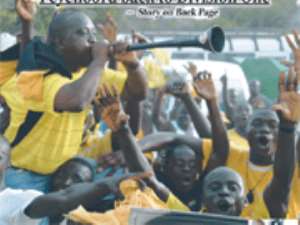 An unyielding nerve last Sunday sustained Ashantigold at Swedru where their 1-0 triumph over Feyenoord Academy earned them the Premier League's second spot, crushed Asante Kotoko's aspirations for a Champions League place and blew Feyenoord into relegation.
For a big part of a critical game for both sides, Ashantigold endured sustained pressure from the delightful Feyenoord players until Alex Asamoah's 65th minute goal damaged the dreams of Kotoko and Feyenoord.
While Ashantigold, led by Chief Executive Kudjoe Fianoo, and Coach David Duncan celebrated a second straight adventure in Africa since 1997, Feyenoord joined Bofoakwa and Power FC for an uncertain life in the second-rate Division One League.
And as Power FC, Bofoakwa and Feyenoord Academy brood over the winding journey across local football's wilderness, new champions Hearts of Oak and their expatriate coach, Mitko Kostadinov Dobrez, as well as Great Olympics' Emmanuel Clottey, found reason to celebrate their respective success stories in a season that attracted almost equal controversies as did some previous ones.
Clottey emerged the goal king on the finishing line, beating fore-runner Alex Asamoah of Ashantigold on the last day after his hat-trick in Olympics' surprise 3-5 loss to Asante Kotoko on the closing day beat Asamoah's 13 goals.
In 29 matches, Clottey had managed only 11 goals but found extreme potency and became an instant saviour against a suppossedly marauding Kotoko side that incidentally recorded their biggest score of the season in that match.
The result was, however, of little relevance to Kotoko's aspirations for a Champions League place next year as Ashantigold's 1-0 victory over Feyenoord at Swedru nullified Feyenoord's premiership status and restricted Kotoko's ambitions to a Confederation Cup challenge next year.
Feyenoord, like Bofoakwa, could not find the all-important victory when it mattered most, and their pain at slipping down the league strata was the gain of Ashantigold and King Faisal respectively who either clinched second place or escaped relegation.
For Faisal, it was the result of a dogged character that pitched them against major forces in a season-long struggle over points lost as a result of fielding an unqualified player in their opening game, which incidentally was against Bofoakwa.
And after their goalless game in Sunyani's derby at the Coronation Park, Bofoakwa bid farewell to elite league competition for the first time in more than 10 years.
But Hearts 19th league title, Kostadinov Dobrez's historic feat with the new champions, and Emmanuel Osei Kuffour's undying playing power were some of the emotional sides of the Onetouch Premier League's closing events last Sunday.
Kuffour, enjoying the full benefits of a league synchronised for once with the European calendar, started the season with Ashantigold and became the cornerstone for Kotoko in the second half.
Duncan, Kuffour's coach at Ashantigold, was relieved with ecstacy when he stated that "it is both grace and hardwork that have taken us this far," in apparent reference to successes such as the Macufe Cup in South Africa and their status as Ghana's sole survivors in Africa this year.
Story by Andy Quao