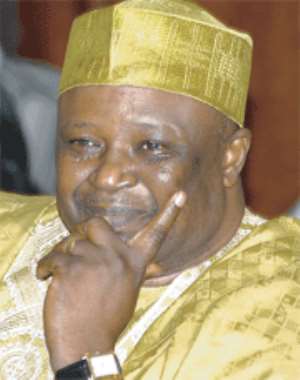 The Ghana Education Trust Fund (GETFund) is to finance the construction of a classroom and an office block each for 2,000 basic schools which hold classes under trees or in makeshift conditions.
That is to ensure that all basic schools in the country have sufficient and decent classroom blocks conducive to teaching and learning.
GETFund Administrator, Mr Fosuaba A. Mensah Banahene, who disclosed this in an interview, said it was the determination of the GETFund Board that public basic schools did not operate under extreme deprivation.
He explained further that as part of the 50th Independence anniversary, the GETFund would, within the year, finance the construction of one primary school with kindergarten, to be known as Jubilee Schools, in each of the 138 district capitals at an estimated total cost of ¢140 billion.
Mr Banahene said the fund was expected to receive ¢1.7775 trillion from the Value Added Tax (VAT) office, which was in charge of collecting the levy on behalf of the GETFund.
He said in response to appeals for emergency assistance following recent rainstorms, the board had given out ¢3 billion for the rehabilitation of damaged public schools in the Northern Region and ¢2 billion towards the same objective in the Ashanti Region.
"The board will make further donations after it has received a complete report of the level of destruction," he promised.
He said in response to requests for the construction of libraries, the board, with approval from Parliament, would finance the construction of public libraries in the regional capitals, beginning with Accra, Sekondi and Kumasi.
"With respect to the shortage of residential accommodation for students in the universities, the Board of Trustees of the GETFund has begun the process of constructing hostels for the University of Ghana, Legon, the Kwame Nkrumah University of Science and Technology, Kumasi, and the University of Cape Coast under the second phase of providing residential accommodation for tertiary institutions," he said.
Mr Banahene said the hostels, which would accommodate between 800 and 1,000 students each, were being financed with revenue from the investments made by the GETFund.
He said under the first phase of the programme, residential accommodation was provided for the University of Education and the Winneba, Tamale, Sunyani, Kumasi, Takoradi, Ho and Koforidua polytechnics.
Mr Banahene thanked Members of Parliament for the efficient management of their share of the GETFund, as well as district directors of the Ghana Education Service for their assistance and co-operation in the execution of projects.
"The board also appreciates the role the media play in bringing to the knowledge of the public the work of the GETFund and the circumspection with which they have handled some issues," he said.
He urged the public to cross-check their facts with his office before going public on matters relating to the efficient management of the GETFund.
Story by Yaw Boadu-Ayeboafoh