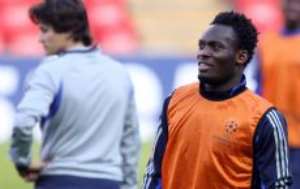 Michael Essien is ready to come up against Peter Crouch for the second time this season.
The Chelsea midfielder is expected to start at centre-back against Liverpool in the UEFA Champions League semi-final second leg on Tuesday.
Jose Mourinho will be without Ricardo Carvalho's services at Anfield, meaning Essien will likely be paired with John Terry at the back.
The Ghanaian played alongside Paolo Ferreira in the Premiership fixture between the sides in January which Liverpool won 2-0.
However, with Terry alongside him, Essien is confident Chelsea's backline can handle Crouch this time around.
"Peter Crouch is the tallest man I have ever played against, but I am ready," Essien said.
"I have never seen a footballer like him - he can beat me in the air but I can beat him to the ball on the ground.
"I do not mind playing in defence, I will do anything the team wants. I will play anywhere I have been asked to play, I have been doing it all season so it is nothing new for me.
"The last time we played against Crouch it was me and Paolo, and it was hard. This time John Terry will be alongside me, and I believe we have learned from what happened last time.
"It is good to have John alongside me this time, he has more experience and can teach me. I feel we have learned the lesson from the league game earlier in the season at Anfield.
"It was difficult for me and Paolo to deal with Peter Crouch then, I feel it will be a different story this time.
"I think with John around this time, he will be more powerful in the air and can deal with the difficult aerial stuff we may face."