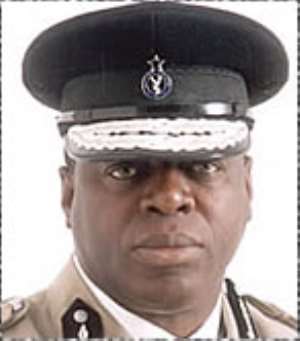 The Greater Accra Regional Police Command says two persons it has requested to avail themselves to assist in investigations into the vandalism of the Gbese Mantse's palace are yet to do so.
Police have requested the Chief Executive of Accra Hearts of Oak, Tommy Okine and the NDC's Rojo Mettle Nunoo to report to the Accra regional command in connection with an attack on the Gbese Mantse's palace last Friday.
Eyewitnesses say the palace was attacked by a mob protesting the installation of Mr Okine as the new Gbese Mantse. Police are already holding four persons in connection with the incident.
The Accra Regional Police Commander DCOP Douglas Akrofi-Asiedu told Joy News they are still awaiting the two to assist in the investigations.
"They have not yet appeared. They have also not given any indication of coming. They are in hiding now…the four we have arrested are elders of Gbese who were trying to install Tomy Okine," he said.
DCOP Akrofi-Asiedu said the four had no permission to carry out the installation because they failed to send their request for permission to the appropriate quarters.
"Their application should have gone to the James Town District commander but they sent it to the Central Police Station officer. He didn't know what was happening at James Town so he brought it to me. I indicated that we shall only allow them provided there is no litigation on hand. So I instructed that he should refer to the James Town police to investigate," he said.
He said the four would be processed for court.

Meanwhile a litigant in the matter, Rojo Mettle-Nunoo has denied any involvement in last Friday's vandalism of the palace.
Mr Mettle-Nunoo who said he is a kingmaker of the area told Joy News that he has not received any formal invitation by the Regional Police Command to assist in their investigations into the matter.
"The only incident that I have ever had concerning the Gbese Mantse's palace has to do with the court ruling of the 17th of February 2003, where the Judicial Committee of the Greater Regional House of Chiefs ruled after 23 years of litigation that the petitioner…has a right to have possession of the palace. As a result of that ruling he got a court order to take possession of the palace and I was to witness that order," he said.
Mr Mettle-Nunoo said: "I have no knowledge of any recent development at Gbese…I am going to make myself available to the police because I am a law abiding person. But it's very bizarre that when people who have legitimate rite to carry on customary rites perform their functions then you have this rather happening."