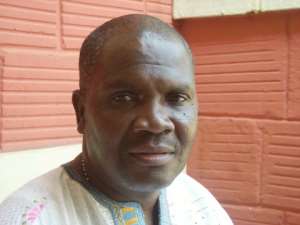 Nii Yartey-Presenter GFM Radio,United Kingdom
There will be a special programme aimed at forming a Union for all GaDangme organisations in Europe.
We, GaDangme-mei/li are blessed and today there is a realisation amongst us in the Diaspora that "Unity Is Strength". There is a move to bring together all GaDangme organisations in the Diaspora with the view to coordinating our activities and avoid unnecessary duplication.
The programme will be hosted by Nii Yartey of GFM Radioand will be live on air at http://www.gfmradio.com and also at http://www.modernghana.com Radio Click Here To Listen To Modern Ghana Radio
on Saturday the 28Th of April at exactly 15.00GMT or 16.00 British summer time.
The planned radio discussion on Saturday is the beginning of the long-awaited desire to unit all GaDangme organisations so we can begin to speak with one voice. Today we are starting with Europe, tomorrow we shall start with the Americas and eventually have all organisations across all continents come together to work for a common goal.
This is not going to be easy but as the famous Chinese proverb goes,"A journey of a thousand miles begins with the first step
Please join the brave and forward-looking organisations who have decided to take the first step on this long and torturous journey. Please join in the discussions with your ideas and advice.
The phone-in number is +44(020)85201355.You can also send your views to [email protected]
Nii Yartey is asking any GaDangme group in Europe who have not heard about this new GaDangme European Union to contact him on [email protected]
Kake pee mi/Ekome Feemo