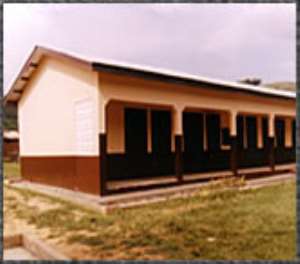 As part of the programme, the church has constructed a classroom block for the AME Zion School at Odoben, rehabilitated a borehole for the community and also constructed a church, at a total cost of ¢450 million.
Speaking at a ceremony to hand over the facilities to the community, the District Chief Executive (DCE) for Asikuma-Odoben-Brakwa, Mr Emmanuel Adjei Domson, advised
the people to remain united and work in peace in the district to promote the rapid development of the area.
Mr Domson said the government had the welfare of the people at heart that was why it had introduced policies like the Capitation Grant and the School Feeding Programme.
'Let the children go to school. They don't have to pay any fees, just let them go to school to make use of the facilities provided,' he stressed.
Mr Domson also called on the people to take good care of the rehabilitated borehole, which broke down for several years, since its rehabilitaion was done at a great cost.
He expressed appreciation to the church for coming to the aid of the district and said they were looking forward to greater collaboration in other areas to promote the development of the district.
Rev Mrs Alexis L. Felder of the Newn Faith Baptist Church International expressed gratitude to the people in the community for giving themthe opportunity to help promote development in the district.
'When God led us here, we did not know the extent of our involvement.. . The best part of my life has been here in Ghana,' she said.

The Co-ordinator of New Faith Ghana, Ms Joan Ephson said the church had been impressed with its development initiatives in the country and had plans to extend the programme to other areas of the country.