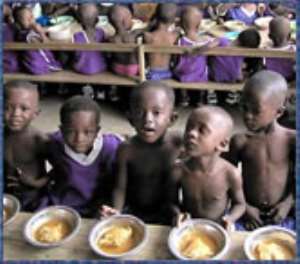 Wassa West District Chief Executive, has cautioned implementing committees of the School Feeding Programme to keep correct records of their expenditure in order not to mismanage the funds meant for the programme.
He said the government was serious about the programme and those who would treat it as a trivial exercise would have themselves to blame.
Mr Ayensu said this when he paid a visit to Wassa Asikuma near Tarkwa to find out the progress of work at Wassa Asikuma District Council (D/C) Primary School.
He said the supply of food items should not be the monopoly of one person but transparency should be the watchword.
Mr Ayensu said the committee should buy food from the local people so that the money would be in the local economy.
He said utensils and water reservoir and some food items had already been supplied and the Wassa West District Assembly would build a kitchen and a store to enhance the programme.
Mr George Asiedu, the Headmaster of the school, said he was however not happy with the kindergarten pupils who were exempted from the programme because they serve as gate crushers when the food was being served.
Mr Raphael Kwesi Fordah, the Assembly Member for Wassa Esikuma, said the implementing committee of which he is a member would live up to expectation.
GNA