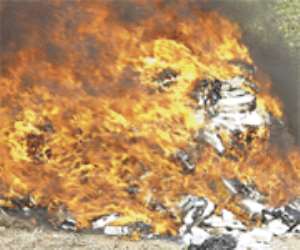 Twelve boxes containing cocaine seized by the police at Mempeasem, East Legon, on November 24, 2005 were yesterday destroyed at the Independence Square following a court order.
The order came after the prosecution in the 588-kilogramme cocaine case prayed the court for an order for its immediate destruction after it had admitted it in evidence.
The court, which went on a locus at the Criminal Investigations Department (CID), obliged and ordered that officials of the Environmental Protection Agency (EPA) and the Ghana Standards Board (GSB) supervise the destruction.
Others represented included media personnel, a representative of the Inspector-General of Police (IGP), the prosecution, defence and officials of the Narcotics Control Board.
Earlier, the court had inspected the 12 boxes and asked the GSB to conduct another test on samples in the boxes before they were destroyed.
Joel Meija Duarte Moises, a 35-year-old machine operator, and Italio Gervasio Rosero, aka Italio Cabeza Castillo, 38, a businessman, are being held for conspiracy to commit crime, importing 588 kilogrammes of narcotic drugs without lawful authority and possessing narcotic drugs without lawful authority.
They have pleaded not guilty and have been remanded into police custody by the court. The case has been adjourned to May 2, 2007.