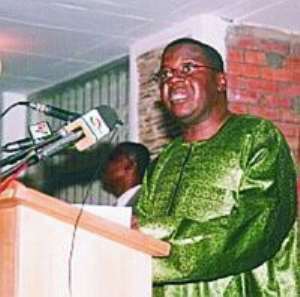 Vice President Alhaji Aliu Mahama has been blowing aloud a trumpet of Ghana's achievement in South Africa. At a meeting in Pretoria with Ghanaians in South Africa, he described media freedom in Ghana as unparalleled in the world.
He stressed: "The US with its 200 years of democratic history does not have the prevailing media independence in Ghana now."
Alhaji Aliu Mahama said Ghana is being currently run by a government that believes in the rule of law. Crucial to this is the existence of a judiciary that asserts its independence.
He also suggested the need for Ghana to streamline the prevailing land tenure system, which he described as problematic and an affront to the development objectives of Government.
Land litigations, he said, were often the bane of the country"s investment drive.
The meeting climaxed a week's visit to the country, where the Vice President, who was accompanied by Deputy Minister of Foreign Affairs, Regional Integration and NEPAD, Akwasi Osei-Adjei and Deputy Minister of Trade, Industry and PSI, Gifty Ohene Konadu, addressed a two-day Ghana and South Africa Business and Investment Forum at Midrand, near Pretoria.
The forum, which was organised by the Ghana High Commission in Pretoria in collaboration with the Ghana Investment and Promotion Centre, was part of activities to commemorate Ghana's 50th independence anniversary celebrations in South Africa.
Vice President Mahama, who used his meeting to explain government policies and development programmes at home said: "Any visitor to Ghana for the past five years would see a new Ghana so far as roads are concerned.
"A number of ulterior roads have been asphalted or improved upon," he said, citing the Wa-Bamboi road, which links Northern and Upper West Regions.
Vice President Mahama said 53 out of the 106 kilometres of the road had been improved upon.
He said within a period of four years government had imported over 1,000 tractors for agriculture production. Government, he said, was also committed to reducing the cost of doing business in Ghana.
He lauded the National Health Insurance Scheme introduced by the ruling New Patriotic party, stating that the scheme was harvesting good results.
Vice President Mahama asked Ghanaians in South Africa to be worthy ambassadors of Ghana by being law abiding. They must also woo investors to Ghana, stressing, "Nobody except Ghanaians can build Ghana."
He lamented that trading between Ghana and South Africa is not balanced hence his visit to the country to help balance the equation.
He said Ghana had all that it takes to influence investors to the country and referred to the good strides the national economy was taking.
The Ghanaian community, led by Shormeh Gyamfi-Aidoo, President of the Ghanaian Association in Pretoria, called for the need to consolidate the development gains at home and the creation of a conducive atmosphere for investments at home.