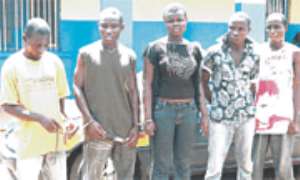 The Sunyani Police have arrested five suspected armed robbers, including a woman and two identical twins, who attempted to snatch a taxi, with registration number BA 677 X, from the owner, Mr Andrew Frimpong, in Sunyani.
The unemployed suspects, Isaac Kumi, 22, Atsu and Etse Awusenya, the identical twins, 24, Francis Acquah, 23, and Mary Fosuah, alias Ewurama, 19, were alleged to have hired the taxi at Rex Cinema to the Tyco Nite Club on the Sunyani-Abesim road at about 11:45 p.m. on Sunday, April 22, 2007.
Chief Superintendent of Police (CSOP) Christian T. Yohuno, in charge of the Sunyani Police, who briefed the press in Sunyani, explained that when the suspects got to the nightclub, the operators had closed so they directed the victim to send them to a guest house nearby.
He said on their way, one of the suspects pulled a bicycle chain and threw it around Frimpong's neck with the aim of strangling him, while the others pierced his body with a screw driver, a compass and other offensive implements.
According to CSOP Yohuno, the driver struggled with them and managed to escape to a nearby bush, from where he eventually emerged and was offered a ride by a Good Samaritan to the police station to make a report.
He said the police then sent messages to all the checkpoints on the Sunyani-Kumasi road about the activities of the suspected armed robbers.
The Municipal Police Commander said at about 9:30 a.m. the following day, the Sunyani Police received information that the said taxi had been intercepted at the Sofo Line Checkpoint, near the Suntreso Police Station, and that those on board had been detained at the Kumasi Central Police Station.
CSOP Yohuno said the Sunyani Police then proceeded to Kumasi to convey the suspects to Sunyani and, upon interrogation, they gathered that the suspects had hatched a plan to steal because life was unbearable for them.
The Police Commander alleged that Fosuah, who was Kumi's girlfriend, had advised that the gang go to consult a juju woman at Wenchi after they had taken the decision to engage in robbery.
He said at Wenchi the woman directed them to a more powerful fetish priest at Sampa, also in the Brong Ahafo Region, but they could not bear the cost and decided to go into their business without any fortification and protection.
The Municipal Police Commander said since last Friday there had been a series of robberies in the municipality and that information received showed that the suspects were behind those robberies.
He said some victims of crime had identified them, with the suspects having confessed in their verbal statements that they had committed the crimes and that they had planned sending the taxi to Koforidua in the Eastern Region to sell.
Story by Akwasi Ampratwum-Mensah