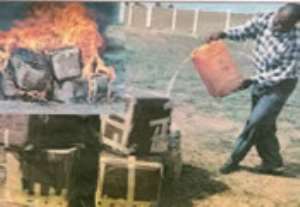 The 588 kilogrammes of narcotic drugs seized from the residence of Vasquez Gerardo Avarte David, a Venezuelan, at East Legon on November 24, 2005, were on Tuesday burnt at a spot behind the Independence Square in Accra.
The destruction of the drugs with a street value of 38 million dollars, was on the orders of Justice E.K. Ayebi, a judge at the Fast Track High Court in Accra.
Two Venezuelans, Joel Melia and Halo Garvasio Castillo, who are alleged to be linked to the haul, are standing trial before Justice Ayebi.
The destruction was supervised by Justice Ayebi, Mr Rexford Gyimah; Registrar at the High Court, and Ms Getrude Aikins, acting Director of Public Prosecutions.
Also present were personnel from the Environmental Protection Agency, the Ghana Standards Board, the media and the police under heavy security provided by the police and military.
The exhibits were authenticated by personnel of the GSB before the burning took place.
Chief Inspector Eugene Frimpong, who was among the team that raided the residence to seize the drugs, had earlier tendered in evidence items discovered in the house at the court's sitting at the Police Headquarters.
The sitting venue had to be shifted to the Police Headquarters for security reasons as the decision regarding the burning of the cocaine was to be determined.
The items included the narcotics, three bottles of ammonia, different brands of surgical gloves, a machine used for compressing the cocaine into smaller slabs and a smoking pipe.
After the items were tendered in, defence counsel, Kwabla Senanu Dogbe objected to the item termed a "smoking pipe."
"My Lord, this thing looks like a football trophy but not a pipe," he argued and insisted that not until an expert appears before the court to say it is a pipe, "it must not be called as such."
The case was adjourned to Tuesday, May 2, 2007.