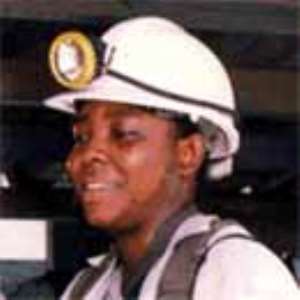 When Genevieve Tettey began working deep underground in the heat, dust and noise of one of Africa's oldest goldmines, the other miners laughed in disbelief.
They asked her if she was the boss's daughter and if she had mistaken the Obuasi goldmine in Ghana for a hairdressing salon.
And when she offered suggestions about work, she was told to shut up, as the mine was "not a place for a woman".
"Initially everybody thought I was a big joke," said the 31-year-old. "It took people a long time to believe this was a woman who wanted to do mining. People just wanted to see me, they couldn't believe there was someone like me."
Five years since Tettey first turned up at AngloGold Ashanti's flagship Ghanaian mine, she is having the last laugh.
Now a mine production captain, she oversees a team of about 100 men responsible for a quarter of the mine's output. They drill and blast rock containing gold, then haul the ore above ground where it is processed into ounces of the precious metal.
"I have been accepted," said Tettey, in the white boiler suit and hard hat she wears to supervise her team several thousand feet below ground, in shafts that spread like tentacles under Obuasi town.
But she remains the only underground female miner in the West African country, the continent's second-biggest gold producer after South Africa.
Firms such as Newmont, Gold Fields and AngloGold Ashanti contribute to Ghana's annual gold production, currently more than two million ounces.
ILLEGAL DIGGERS
Women are a rare sight inside a Ghanaian mine."We have mining engineers, we have geologists, there are some (women) who drive some of those monstrous vehicles," said Joyce Aryee, chief executive of industry lobby group Ghana Chamber of Mines.
"They are not in great numbers and naturally, we are in soft areas, such as administration. We are not that many in the hard core mining areas. It will take time."
Some women do, however, work as small-scale artisanal miners, known locally as galamsey.
They often operate illegally and in dangerous conditions, eking out a living on unsupervised digs, but it is not clear how many of Ghana's estimated 300,000 to 500,000 galamsey are women.
This month, six women were among nine illegal gold diggers killed when the abandoned pit they were working in collapsed, near Wassa Akropong in the Western Region, police said.
More women are signing up to become mining engineers, although still only about 50 of the 1,000 or so students at the University of Mines and Technology in the town of Tarkwa are women, said university officials.
The growth in female interest reflects in part the changing nature of mining, which in Ghana is now mostly above ground, in the form of open-pit surface mines.
BRAINS AS WELL AS BRAWN
"Women are becoming adventurous these days," said Mines and Technology University administrator Kwame Ocran, adding that the faculty wants to encourage female applicants.
"They always regarded it as a man's job. Until quite recently, mining was basically underground, which was very physical. Surface mining is more mechanical than labor- intensive. That has given them the opportunity to try properly."
Mining requires mental capacity as much as it does brawn, Tettey said.
"Mining has now become a lot of brainwork. It is not just about going there and being macho. You have to plan what you do and be smart," she said.
Women who show interest in a career in mining must face criticism, setbacks and jokes. They are also likely to meet skepticism from friends and family.
But Tetty thrived on the challenge.
"They thought I was mad. Mining is very physically challenging. It is tough, it is rough, it is not a natural environment, especially underground," she said.
"I don't want to believe in limitations. I don't believe in a man's world or a woman's world, I believe in a people's world," she said.