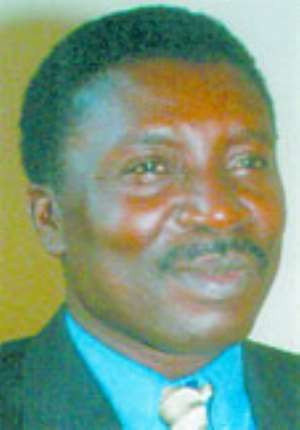 ONE OF the numerous presidential hopefuls of the New Patriotic Party (NPP), Prof. Kwabena Frimpong Boateng, has stated that he is in the party's flagbearership contest to present himself to the kingmakers of the party as the one best placed and well positioned to ensure a buildup on President Kufuor's economy foundation blocks.
The heart surgeon, who is the Chief Executive of the Korle Bu Teaching Hospital, says his presence in the race was not to gain any popularity but to get the mandate of party delegates in order to become the next President after Mr. John Agyekum Kufuor. According to him, the world was now driven by science and technology and therefore, Ghana as a nation crying for economic growth needed a leader, who was in tune with the global technology-driven economy.
"Every time has its own leader and I want to tell you that our world is driven by science and technology now and therefore, Ghana needs a leader like me to ensure growth of the economy", the number one heart surgeon said during an encounter with the press in Kumasi.
Prof. Boateng stated that he had a record of accomplishment and transforming things from 'squalid condition' to more 'prestigious states', having done same at Korle Bu Teaching Hospital.
The NPP presidential hopeful said though many think Ghana was not a nation worth dying for, he wants to lay his life down for the country's prosperity and development by offering himself up for the Chief Executive position of this nation.
"It is difficult to work for the ignorant and ungrateful and that is why Ghana is not worth dying for but it is for these same reasons that I want to die for my country", he affirmed. According to Prof. Boateng, a well-trained medical doctor with discipline and integrity can fit into any position and can perform accordingly. Having transformed his constituency – Korle Bu – and built the only Cardiothoracic centre for this nation as well as leading 6,000 staff and 18 professional groups, the heart surgeon hopes to rule Ghana successfully by ensuring large scale production of bio-fuel and gas.
In his view, Ashanti region should be made the industrial belt of this country to enhance ingenuity and technology advancement, adding that he foresees near collapse of timber industries, and other problems, hence, his desire to lead and change things for the better. He believed this message has found resonance with the delegates whom he claimed, have endorsed him for the NPP flagbearership.