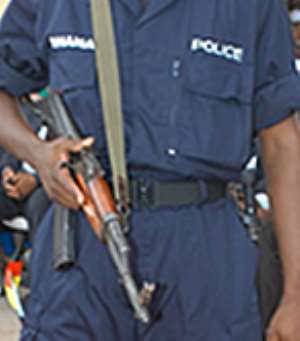 Swelyn Mettle, Commisioner of Police in charge of Technical Services, has asked new police recruits to discard any notion that the service operates a drug cartel from which quick money is made.
'You have to disabuse your minds of the inordinate desire to get rich quick,' he said.
'Those who go out of their way to operate against criminal gangs without the authorisation of their superiors will signal their own exit from the service,' he warned while addressing thepassing out parade of 158 new constables at the Regional Police Training School in Ho on Saturday.
Mr Mettle admonished personnel of the service to resist temptations of bribery so that they can check crimes and protect the rights of citizens.
They should also rafrain from assualting persons who insist on their rights and to act within the confines of the law.
'Let the principle of fairness and impartiality always be the basis of your actions because by these we win public trust, respect and cooperation which help us to realise our mission.'
He advised the new officers to use their power to assist those who are in need of their services and to pursue all those who infringe the law.
But he asked the public not to leave societal problems to the police and other law enforcement agencies alone but to help find solutions.
General Recruit Constables Gabriel Ameteme and Ernest Opare emerged the overall best recruits in their squads. They were presented with special batons.
Credit: The Ghanaian Times