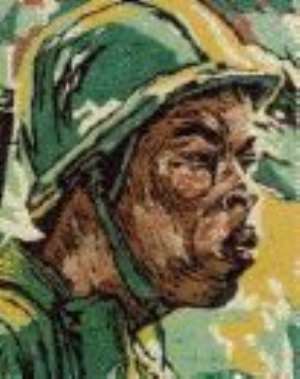 Isaac Afobu Adzevi, 54, a Warrant Officer Class Two with the 66 Artillery Regiment at the Volta Barracks at Ho, died last Friday when a lantern he was lighting during a power outage exploded, setting his home on fire.
His wife, Joyce Essie Ashiapy, who tried to rescue him sustained severe burns on the arms and is currently receiving treatment at the 37 Military Hospital in Accra.
Briefing newsmen last Friday, Lt. Col. Abass Seidu, Rear Commander of the Regiment, said that at about 7:30pm, Warrant Officer Adzevi returned from a funeral at Agbozume in the Ketu
district and picked the lantern to light at the corridor of the house because of the power outage in the area.
He said that while Adzevi was lighting the lamp it exploded setting the place ablaze and trapping him. Attempts by his wife to save him were not successful as she sustained severe burns.
Response to her call for help came rathe too late for her husband died while being rushed to the Regional hospital.
Ms Ashiapy survived, albeit with severe burns on her arms and legs and was admitted at the hospital.She was however flown to the 37 Military hospital in a military helicopter for further treatment, while the charred body of Adzevi was conveyed by road also to the 37 Military hospital.
Meanwhile, the Military Police are investigating the cause for the explosion.
Credit: The Ghanaian Times