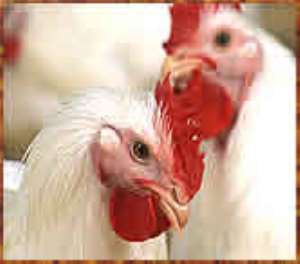 The government's aim of empowering the youth with skills that will give them self employment to cut down the disastrous unemployment rate that has hit the country in recent times is under sabotage.
This is because most of the very institutions such as the National Vocation Training Institute and other youth training centers where the youth could acquire such training are either collapsing or being mismanaged by the heads that run them.
And one of such institutions is the Gomoa Adaa National Vocational Training Institute in the Central region.
Credible reports indicate that Julius Tanto, the headmaster of the National Vocational Training Institute at Gomoa Adaa in the Central region has turned part of the school into a poultry farm from which it is believed he is making personal fortunes.
The newspaper says its checks show that some of the school buildings, most especially the visitors washroom built recently with huge sums of money have had the sinks filled with waste products of the fowls which belong to the headmaster and no one dares to question him about such act.
The reports further revealed that the school which was established about 20 years ago now faces collapse as a result of mismanagement, blamed on Mr Tanto.
The school is now running two shifts in all the forms, from form 1 to 4, as a result of its growing student population.
Currently, all the school vehicles have broken down and the school has found it almost impossible to perform its outside duties.
Since its establishment the school has offered skills to many of the youth in and around the Gomoa district and that has contributed greatly to the development of the area.
The paper says frantic efforts to speak to the headmaster was unsuccessful as he was always absent.