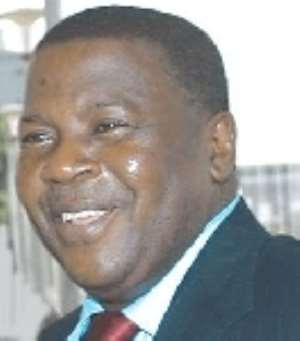 Vice President Alhaji Aliu Mahama has been advised to come out of his thick cocoon of silence and tell Ghanaians in unequivocal terms whether or not he is nursing any ambition to succeed his boss as the next president of Ghana.
This is because, as the agenda thickens, his deafening silence seems not to be making any impression on those who stoutly believe he is a good material for the post, so say a number of opinion leaders of the Zongo community in various interviews conducted at a durbar to mark the birth of Prophet Muhammed at New Fadama in Accra, recently.
Abu Ishaq, a known Muslim cleric, for example, told Gye Nyame Concord that while the Vice President has been tight-lipped on the issue, his image-makers and foot-soldiers have intensified sub-terranean moves and pressures on opinion leaders and other pressure groups to support their game plan.
He also spoke on other burning issues that have been spiking the NPP in recent times and submitted that the emerging fight to succeed President Kufuor must be worked out to stop the imminent danger staring the party.
He said many of the aspirants would withdraw because of clash interest as well as similar cultural barriers, adding that some have misplaced aspirations, with others rushing in on unrealizable hopes.
"All these aspirants have not done their home-work and have also not taken the changing habit of the Ghanaian into account, hence their unrealistic forecasts", he said.
He, however, cautioned the NPP to tread softly on power shift in order not to endanger the unity and corporate existence of the party, insisting that no one should deny any section of the people the right to agitate for power. He, however, noted that this should be done with care and caution.
Others interviewed on the durbar ground, who were not willing to go on record expressed similar views, arguing that though Aliu's spokespersons have on various occasions argued that he would run, the man himself has kept a deafening silence, even in the light of strong speculation that he would not go for the topmost post in the country.
Meanwhile, a member of the Aliu Mahama image-makers team, Alhaji Dauda Saka, has told this paper that the terrain leading to the choice of the presidential candidate for the ruling party is dynamic, difficult, deceptive, and therefore calls for serious approach.
"It's going to be a dog fight. That is why we are offering a packaged solution" he noted, arguing that the kind of talents in the NPP presidential race would give Alhaji Aliu Mahama the needed test and stamp for the presidential post at the National Delegates' Congress.
According to him, Alhaji Aliu Mahama has put up an excellent job as the number two citizen of Ghana, an illustrious post he won after tears of labouring for the party, serving with distinction and admiration.
He said this news may not go down well with some people, but the party's god-fathers are deeply concerned about the party's future and want somebody they could trust for the job, exploding and boosting growth for the New Patriotic Party (NPP). Aside of this, Alhaji Saka said delegates are also looking for a man with a track record, experience, confidence and competence to augment the fortunes of the party and the nation, whilst the voting public is looking for a man with national appeal and good governance.
The team of image-makers, made up of pollsters, political strategists, media-men, close circles of friends and advisers that had been quiet in the beginning, entered combat with vigour last year.
That was when the Veep's fortune turn-around began.
The campaign team has, like a jockey on a good horse, held on tight reins, capitalizing on their opponents' weak points, caressing, coaxing and cuddling all who matter in the NPP and the voting public to give in to Aliu's candidature.
Sources say moves have been intensified on opinion leaders, chiefs, and other pressure groups to support the game plan.