'Don't exploit MCA funds' - President cautions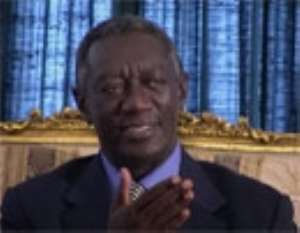 President J. A. Kufuor has cautioned experts and all those working on projects under the Millennium Challenge Account (MCA), not to exploit the funds for their personal gain.
He said the government would closely monitor the process to ensure transparency and accountability in the implementation of the five-year programme, adding that "farmers and the communities must profit from it".
Interacting with the management and staff of the Millennium Development Authority (MiDA) in Accra on Friday evening, after they had gone through a two-day induction seminar, President Kufuor said "The government will not tolerate failure in the implementation of the project."
The MCA is a new stepped-up US programme to fight global poverty in poor countries. It focuses on the poorest nations and aims to invest in people and strategies leading to economic freedom.
Ghana was among nine poor countries selected by the Millennium Challenge Corporation (MCC) of the US as beneficiaries, with $547 million being approved for Ghana to implement projects in 23 districts, out of the $2.1 billion meant for the nine countries under the MCA.
According to the Chief Executive Officer of the MiDA, Mr Esson Benjamin, $52 million had, since March 6, this year been disbursed to Ghana.
President Kufuor said the impact of projects in the 23 districts implementing the programme would be replicated throughout the country and advised the management and staff not to disappoint Ghanaians and US taxpayers, saying, "We must succeed."
He pointed out that the $547 million was not enough to reach all corners of the country, hence the selection of some districts.
President Kufuor said it was not demeaning to admit that Ghana was among the "developing world" and relying on subsistence agriculture.
He said Ghana stood to benefit immensely from the project and export more products to the US under the Africa Growth and Opportunities Act (AGOA).
The Minister of Public Sector Reforms and Chairman of MiDA, Dr Paa Kwesi Nduom, decried the situation whereby after the completion of a project, nothing concrete was seen on the ground and urged the management and staff of the authority to transform at least three communities within the project areas.
Ghana signed the MCA Compact in August last year in Washington, USA, and has since launched some of its projects, including the reconstruction of the Tetteh Quarshie-Mallam Highway.