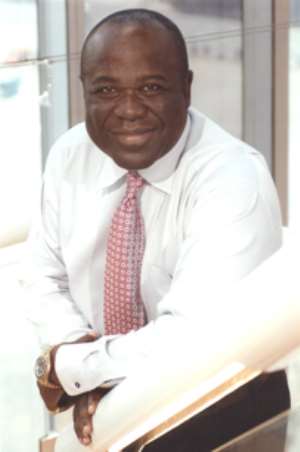 As the 2008 General Elections get closer and closer, the major political parties in the country have begun to put their houses in order to ensure that winning candidates are elected to lead their parties for next year's elections.
The largest opposition party, the NDC has already elected Prof. J.E. Atta Mills as its flagbearer and the ruling party is also struggling with its near twenty candidates who are yet to file their nominations to contest for the flagbearership of the party.
The Democratic Freedom Party (DFP) which was formed when some disgruntled members broke away from the NDC is gathering momentum towards the 2008 General Elections and a credible source within the party has disclosed that the one time boss of Ashanti Goldfields Company and formerly with Anglogold Ashanti, Dr. Sam Jonah is one of the candidates interested to lead the party towards the elections next year.
But strangely missing from the number of people interested in the flagbeareship of the DFP is the one time Finance Secretary, during the PNDC regime, Dr. Kwesi Botchway.

The source indicated that almost all the Executives of the DFP are in favour of Dr. Sam Jonah's candidature as he has a lot of money which could be added to what the party has already so as to champion their cause in a bid to capture political power from the ruling New Patriotic Party.
Apart from the sound business and academic background of Dr. Jonah, it was further hinted that he is popular among Ghanaians and does not need anyone to describe who he is to the voting public.
It would be recalled that Dr. Sam Jonah also held the post of Vice Chancellor of the University of Cape Coast.
When contacted to either confirm or deny the story, the Acting General Secretary of the DFP, Mr. Bede Zieden indicated that their party was a nationalistic one and that it was open to all Ghanaians irrespective of one's ethnic, religious, educational, sex background and that anyone who was interested in the flagbearereship was at liberty to do so when the party opens up nomination before their congress at the last quarter of the year.

It is believed that Dr. Kwesi Botchway is not interested to file for nomination for the flagbearership to lead the party because he is old and does not have the resources as compared to Dr. Sam Jonah and more so Dr. Botchway himself is now interested in helping his party in the Central Region.
The source also told The Moment that the race for the DFP flagbearer was already settled on and that the congress that would be held at the latter part of the year would be a mere formality.
Credit: The Moment