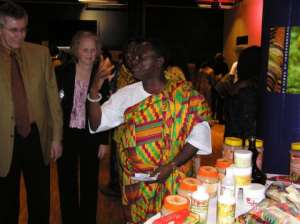 H.E. Mr. Kwabena Baah-Duodu, Ambassador of Ghana to Switzerland and Permanent Representative to the UN and other International Organisations in Geneva and Mr. Arthur Plee, Mayor of Grand Saconnex, Geneva jointly opened a week-long exhibition of Ghanaian exportable products at Geneva's Trade Fair Centre, PALEXPO, on Saturday, 14th April, 2007. Products being exhibited include textiles, (kente, batiks) and garments, African Couture, leather products, Ghanaian art and handicrafts, woodworks, books on Ghana, Golden Jubilee souvenirs, beads, straw baskets, horticultural products, and cocoa products. Click For More Photos
Present at the ceremony were members of the diplomatic corps, some Swiss businessmen and women, Ghanaians from all walks of life, officials of the host Government, including Mr. Markus Stein, Director of Swiss Imports Programme and Mr. Chris Amey of the International Telecommunications Union (ITU), who is the Chairman of the Golden Jubilee Celebration Planning Committee in Switzerland.
In his address at the ceremony, Ambassador Baah-Duodu stated that there was much room for increased trade and investment flows between Ghana and Switzerland and asked participants in the Fair to explore all avenues to ensure that the objectives of the exhibition are achieved. He observed that international trade plays a crucial role in the economic development of all countries and stressed that it was against that backdrop
that organisers of the Fair had thought it appropriate to organise the event so that a solid foundation could be laid for Ghana for the development of the country. He called on the Ghanaian business operators, who were participating in the exhibition to take maximum advantage of their presence in Switzerland to strike the necessary business deals.
At a dinner dance organised in honour of the participants, Ambassador Baah-Duodu paid special tribute to Mr. Chris Amey, the Chairman and members of the Planning Committee, including Mr. William Effah, Mrs. Dorcas Appiah Agbogla, Mrs. Love Amey-Nettey, Mrs. Angela Asamoah-Amey, Mrs. Sarah Appiah Coleman, Ms. Sheila Addy, Dr. Setri Nyomi, Mr. Chris Tagoe, Mr. Frank Kofi, Mr. Michael Wilson, Ms. Harriet Donkor, Mrs. Frances Tawia Hansen Mensah-Fawzy, Mr. Kweku Addo Akuamoa, Mr. Johnnie Quaicoe, Mrs. Edna Kay Attipoe, Mr. Teddy Markham, Mr. Seth Afari, Mr. Charles Ohene-Nyarko, Mr. Tsatsu Dawson and others, for their selfless service to the nation.
The Fair ended on 20th April, 2007.
Click HereTo View More Photos