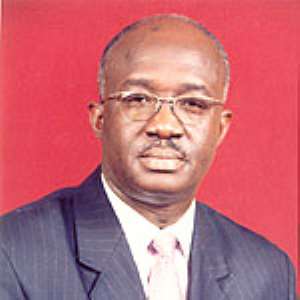 The Minister for Energy, Hon. Joseph Kofi Adda, yesterday, signed an agreement on behalf of the Government of Ghana, with China's Sinohydro Corporation Limited to build a 400 megawatts Bui Hydro Electric Power Plant in the Brong-Ahafo region.

Speaking at the ceremony, Mr Adda said the signing of the agreement marks a significant day in Ghana's history, which is the beginning of an end to current energy crises facing the country.
He explained that President Kufuor took up the challenge of making the Bui Dam construction a reality in order to ensure a long- term security in terms of energy needs when he was elected President.
The Minister noted that the Sinohydro Corporation limited which is a leader in the construction of hydro electric dams in China, has built three of the world's most famous dams and has the expertise and equipment to construct a high quality hydro-electric dam in Ghana.
He further explained that during the construction phase of the project, about 3,400 people will be employed, out of which 2,900 will be Ghanaians, thus making a significant impact on the unemployment situation in Ghana.
The President of the Sinohydro Corporation, Mr Fan Jixiang, thanked the government of Ghana for recognising their expertise and experience in the construction of dams worldwide. He said the success of the Bui Dam will not only be important to the government of Ghana, but also to the Chinese government since China is committed to the economic development of Ghana and Africa as a whole.
He indicated that his company is willing to employ and train local people with the technology they have so that they can in turn train others.
Mr Jixiang pledged on behalf of his workers to abide by the rules and regulations of Ghana in order to work for prosperity and to leaving behind a landmark by delivering a high quality dam to Ghanaians.
The Bui Dam Project, which is estimated at $600 million when constructed, is expected to improve the security of power delivery to the Northern parts of Ghana and has the potential of exporting power to La Cote d' Ivoire, Mali and Burkina Faso.
Even though the Bui Dam Project is designed primarily for hydro- power generation, it has irrigation potential for agricultural and fisheries development and can serve as a tourist attraction site.
Construction of the dam is expected to begin after approval by parliament and cabinet.