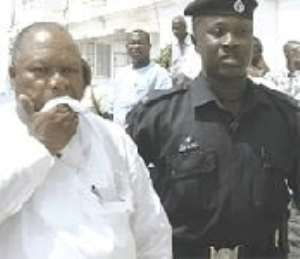 An application for bail pending an appeal filed by the jailed Member of Parliament (MP) for Keta, Dan Kwasi Abodakpi, was yesterday thrown out by an Accra Fast-Track High Court.
The trial Judge, Justice S.T. Farkye, in a ruling which lasted barely five minutes, noted that in his application, the appellant,
Abodakpi lied, when he stated he had no immediate family members living abroad.
According to the Judge, it was established in the course of the trial that the jailed MP had five daughters living in the United States of America (USA).
On averments in the application for bail by the appellant that his appeal could take a long time to be heard, Justice Farkye said Ms Gertrude Aikins, the Director For Public Prosecution (DPP) had given an assurance to the court that the appeal would be heard soon.
Explaining further, he said contrary to claims by the defence team that the evidence of the accused person was not taken into consideration during the trial, the trial Judge explained that Abodakpi was convicted, based on the evidence adduced before the court.
The trial judge said it was established that it was the jailed MP who authorised the then Deputy Minister of Finance, the late Victor Selormey to transfer $300,000 into the account of a certain Dr. Owusu Boadu, which Selormey did.
Explaining further, he said there were no unusual grounds in the substantive trial which justified the bail application and being an MP did not make any difference.
Finally, he was of the view that the ten-year sentence slapped on Abodakpi was fitting and held in both fact and law. He subsequently dismissed the application.
Dan Abodakpi who is the former Minister of Trade and Industry in the National Democratic Congress (NDC) administration, was in February this year, sentenced to ten years imprisonment for causing financial loss to the state to the tune of $40,000, in a five-year trial.
He was found guilty of all the seven charges- conspiracy to commit crime, defrauding by false pretences and willfully causing financial loss to the state.
The trial judge, in his ruling, said the jailed MP made a false representation to Ecobank to pay for a feasibility study on a Science and Technology Valley Park/Project through Ecobank in August 2000, which was never conducted.
According to the Judge, investigations by the prosecution team indicated that there was no correspondence with Ecobank in the logbooks of the Ministry of Trade and Industry, which the court found abnormal.