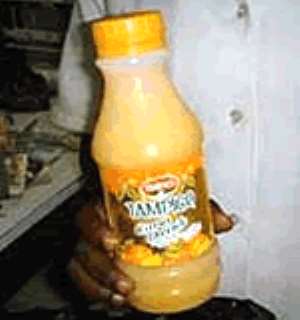 Following the publication of expired Tampico being sold on the market in the Wednesday edition of The Heritage newspaper, an inspection team from the Food and Drugs Board and Fan Milk Limited have moved swiftly into town in response to the complaints raised in the publication and to investigate the issue with the view to protecting consumer interest.
Ebenezer Kofi Essel of the Food Safety & Management Unit of the FDB stated that he had not heard anything like that since he was out of Accra on Wednesday but recalled someone made a compliant to the post market surveillance team so it was on its way to check the products.
He added that the Fan Milk team was in the market to inspect their products as at that time.
According to him, most expired goods being sold on the market could be blamed on the retailers because "there had poor stock rotations on the part of retailers".
He added that most of the cases turn out to be with the small scale retailers who only buy a carton for 'decoration on their shelves' and do not make any necessary checks on the products they are selling. "This is where the consumer must be cautious when buying products from this category of retailers," he said.
Mr Essel stressed that "no company or manufacturer will send expired goods on the market for people to buy", adding "I don't think Fan Milk will do that."
Most of these cases do not happen in big shops or supermarkets, he stressed, citing Max Mart as an example of one such supermarket which has high turnover of consumers so new ones are always supplied.
He said "I am not surprised you mentioned this issue to me; not long ago, we had training for the wholesalers and retailers' including the bicycle sellers at Fan Milk and this issue was highlighted. But as I said the fault or blame does not come from the producers but it is an indication of poor stock rotation."
On the question of who bears the cost when their team is sent out, he mentioned that it is part of their routine to be doing these things. He mentioned that they have a programme which creates awareness to the public, something that is done every year known as Food Safety Week.