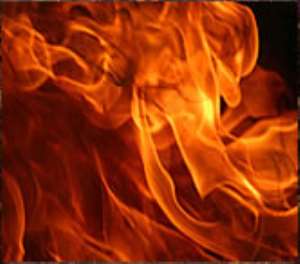 An eight-room thatched house at Dogo Akuraa, a farming community in the Nkoranza district of Brong-Ahafo has been razed down by fire rendering 30 people homeless.
The fire destroyed personal effects including clothing, cooking utensils, bicycles and quantities of food items worth millions of cedis.
Mr. Kwadwo Kuma-Dagarti, a victim, told the Ghana News Agency (GNA) during a visit to the scene by Mr. Akrapim Baffoe, Assembly Member, that a group of hunters set the fire during an expedition around the house.
He said during the dry season every year, some youth from Nkoranza Zongo community undertake group hunting in the area and during such expeditions they burn farms, food crops and other properties.
Mr. Kuma-Dagarti said the community had reported and complained about the practice to the district fire station on several occasions 'yet no attempt has been made to stop the hunters'.
Mr. Baffoe consoled the victims of the disaster and appealed to the district secretariat of the National Disaster Management Organisation (NADMO) to arrange for some relief items for the affected persons.
He advised the youth in the area to form fire disaster volunteer groups to enable them to combat bushfires.
The Assembly Member urged farmers in the area to avoid roofing their houses with grass, which could easily catch fire.
Mr. Baffoe called on the district fire station and the police to be vigilant against the activities of group hunters during the dry season to avoid such fire outbreaks.
GNA