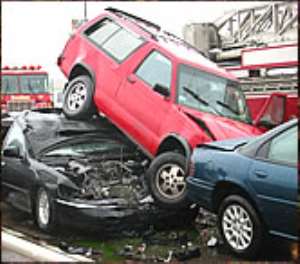 According to an eyewitness, Richard Sanaky, an officer of the Retired Mines workers Foundation who was among the first to reach the scene, the cow got injured.
Its owner on the front seat allegedly fled the scene. But the driver was not lucky, he died instantly. According to Mr Sanaky, he was on his way to Wa in the Upper West Region when he saw the accident and captured the scene with his camera.
The eyewitness claimed that the accident attracted farmers from surrounding areas who helped to pull out the body of the driver from the wreckage. When contacted the police said they were unaware of the accident.
The G. Times