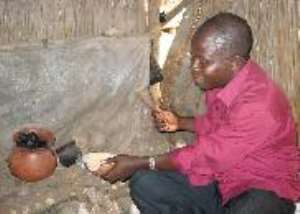 The High Priest of the Kwaku Fri Shrine, Nana Kofi Drobo III, has advised Christians to do away with gossiping and emulate the Lord Jesus Christ.
Nana Drobo was speaking at a prayer session organized by the Methodist Church for the High Priest, whose late father built the Methodist Church at Nwoase.
He appealed to Christians to eschew backbiting since such behaviour did not augur well for peaceful co-existence.
Nana Drobo noted also that there were some wolves in sheep clothing in Christian circles and appealed to the gathering to try and distinguish between the wheat and chaff.
According to him, it was an undeniable fact that the lesser gods were servants to the Almighty God and for that reason Christians should not see traditional worship as blasphemy, but as something which was meant to complement the efforts of the Almighty God.
Sounding philosophical, Nana Drobo told the gathering it was not for nothing that anytime a traditionalist decided to pour libation, he or she first mentioned the name of the Almighty God and accorded Him the respect as being omnipotent and mighty.
According to Nana Drobo, before the white man came to introduce Christianity, Africans knew of God and did worship Him with all reverence.
He recounted the history of the Methodist Church in Nwoase and said it was his late father, Nana Drobo I who built the church house in the town and went further to lay the foundation for the Methodist Church in Wenchi.
To this end, Nana Drobo said members of the Methodist Church used to visit his late father to pray for him when he was alive. Courtesy, he said, had also been extended to him, thanking the church for having the wisdom to do so every year.
Culled from Daily Guide