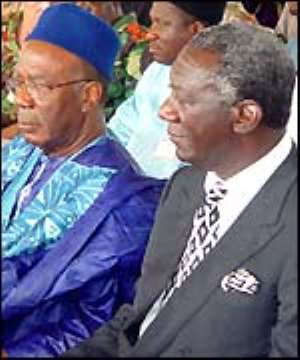 Economic partnership arrangements between Africa and the developed nations must be based on mutual respect and benefit, declares President John Agyekum Kufuor.
He said they should be underpinned by the acceptance of common humanity to help to put value on the continent's resources.
President Kufuor was interacting with a delegation of the Africa, Caribbean and Pacific-European Union (ACP-EU) Joint Parliamentary Assembly (JPA) at the Castle, Osu, on Saturday.
The group was in Ghana as part of a three-nation fact-finding mission to West Africa, which also took them to Senegal and Côte d'Ivoire.
The JPA aims, among other things, at promoting greater economic co-operation between the North and South and build member countries' parliamentary capacity to enhance the legislative arm of Governments.
President Kufuor, who is Chairman of the African Union, said although the Continent was admissibly handicapped, it was endowed with rich human and material resources, which it must be assisted through genuine partnership to build on to create wealth.
He said it was for this reason that the World Trade Organisation (WTO) should realistically look at the introduction of a transitional arrangement that would support Africa with the muscle to become more competitive on the international market.
He said anything short of this could be likened to a "boxing match between a lightweight and a heavyweight", a complete mockery.
President Kufuor who shared his views with the group on a number of issues ranging from the challenges he saw regarding his Chairmanship of the AU, Ghana's role in the sub-regional body, ECOWAS as well as Africa, applauded the JPA as a pacesetter in today's world of globalisation.
He said he looked forward to a time when the Americas and Asia would come on board to serve as a pressure group that would ensure that Governments globally served with transparency and accountability to their peoples.
President Kufuor noted that a responsible Parliament was crucial to keep the Executive on its
toes and that the Ghana Government was securing 25 million dollars to help Members of Parliament to get their own offices.
Additionally, other independent constitutional bodies like the Judiciary, Serious Fraud Office (SFO), Commission on Human Rights and Administrative Justice (CHRAJ) and the Police were being strengthened to enhance good governance.
Ms Glenys Kinnock, Head of the Delegation, praised President Kufuor for Ghana's democracy, respect for civil liberties and human rights and said they were proud of these.
She said the country's economic performance was something that also deserved commendation.
Mr Rene Redembino, the Gabonese Speaker of Parliament and Co-Chairman of the JPA, said through the partnership they were seeking assistance with which to make headway in Africa.
Source: GNA