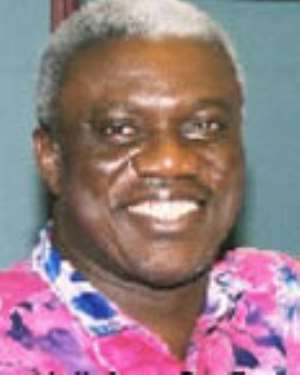 REGIONAL HEALTH DIRECTOR WITHDRAWS WORKERS FROM ATRONIE
THE BRONG Ahafo Regional Health Directorate has put on hold all outreach activities to the people of Atronie by health workers until further notice, after the gruesome murder of the Asunafo North District Assembly's Presiding Member who was also the Administrator of the Goaso Government Hospital.
This was contained in a statement issued and signed by the Regional Director, Alhaji Dr. Mohammed Bin Ibrahim on April 11, 2007.
According to the statement, the decision has been taken, due to the fact that the safety of any health worker within the vicinity could not be guaranteed.
The Regional Health Directorate illustrated that the insensitivity of the community towards the plea of the three women, one of whom was a Catholic Nun and dressed as such on the night of resurrection on that Easter Sunday raises questions and concerns about the level of civility of a community such as Atronie.
Alhaji Dr. Ibrahim said that by their tacit acquiescence, the Elders and Opinion Leaders of the Atronie community condoned and connived with the irate mob to unleash the mayhem on innocent lives.
He stated that a visit to the scene of the crime suggests that, it happened less than twenty metres from the palace of the Atronie Chief and a Police post, and a brutally vandalized vehicle with all sorts of weapons such as knives and stones suggest a sinister motive behind the crime.
The Regional Health Director noted with grave concern the high rate of mob action in the country, which continuously robs the nation of worthwhile citizens who otherwise would have been proved innocent.
The murder of Yeboah Boateng, a father of four children has left the health services with a feeling of disgust and displeasure, and this particular incident following closely in the wake of a host of similar unresolved murders, gives an uneasy feeling to every well meaning Ghanaian, Alhaji stated.
He commended the Regional Security Committee (REGSEC) for the initial steps taken to bring the perpetrators to book, but urged them to expedite action to forestall any looming counter-reaction from the bereaved community.
However, the REGSEC in a statement has assured the bereaved family and the general public that action has been initiated to apprehend and bring to book the perpetrators of the heinous crime.
REGSEC appealed to the general public especially the youth of Goaso and its adjoining towns and villages to remain calm and not to do anything that would breach the peace while the security services continue with their investigations into the matter.
The statement extends condolences of the REGSEC to the bereaved family, the Asunafo North District Assembly and the Ghana Health Service for the untimely death of a dear one, as they appealed to members of the public who may have information on the persons involved in the murder or may wish to volunteer information on the incident to contact the nearest police station.