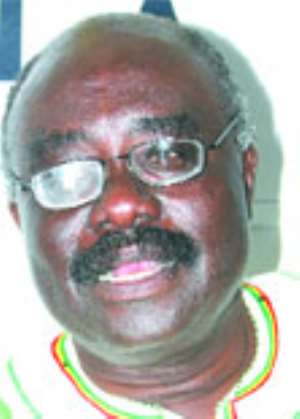 (Continued from Thursday
April 5 )
CALIBRE OF LEADERS
THE VISION of our current leaders appeared blurred, as far as many people are concerned. This is understandable because of the thick cloud of "dust" that has been allowed to blow over the country's landscape for the greater part of our existence as an independent nation.

If our current leaders can motivate all of us and show good examples for us to emulate, we would lend support to any agenda of the government. We must all have a common agenda. The agenda is to be INDEPENDENT and to make our country less dependent on others, and then we qualify to be called Ghanaians. That is what the independence struggle was all about.
The President of Ghana should not seek for the welfare and wellbeing of his PARTY MEN AND WOMEN alone. He should avoid making major national statements at political functions of his party. He is not the President of his party alone but for the whole of Ghana. The President should find it necessary to come on air periodically to address the whole nation and to address pertinent issues that affect our lives and to remind us of our goals and how far or fast we are moving towards them; or call our attention when we appear to be drifting away from our goals.
Those of us who lived through the first Republic cannot forget the famous Dawn and One O'clock broadcasts of the great founder of our nation.
As we strive to free ourselves from the socio- economic and political stranglehold and become less dependent on others, it is submitted that we go back to re-examine our concept of independence, bearing in mind the motives of some of our so called "development partners" in the cloak of King Leopold II and others like him.
As we celebrate the 50th Anniversary of our independence, it is suggested that we take note and or do the following, among others:
SUGGESTIONS

* Endeavour to change our mindset and be determined that we shall not remain producers of raw materials for other economies;
* We should look within ourselves and marshal all the resources from within to execute our development agenda and be less dependent on foreign investors.
* Accept the fact that in spite of the shortcomings of the great and visionary leader, Osagyefo Dr Kwame Nkrumah, of blessed memory, IF succeeding governments had built on the modest but strategic industrial foundations that were laid during his administration, Ghana would not have been seeking help/aid from countries like Malaysia today. In that regard we should resolve, never again to allow projects started by one government to be abandoned by a succeeding government.
* We should take a second look at the development of large Plantations for the mass production of crops to feed the processing factories we envisage under the Presidential Initiatives. We called them STATE FARMS in the First Republic. And they were productive. WE NEED AN AGRICULTURAL REVOLUTION backed by medium to large-scale industrial manufacturing plants to process the agricultural produce for local consumption and for export to be able to advance into the middle level income status we aspire to attain in a decade or so.
* Let us make full use of our own local talented Engineers at the KNUST, Kristo Asafo Church establishment, and many other such establishments producing useful agricultural and other industrial machines for our use. The Indians and Chinese and others, we now rush to for help went that way. For God's sake let us look inward first.
* The thousands of our young men and women in our streets need to, and SHOULD be mobilized into full- time productive ventures. The Private Sector alone is not capable and is not yet ready to absorb the thousands in our streets. The fact that the concept of STATE FARMS AND THE WORKERS BRIGADE was misused, somewhat, in the First Republic, does not mean that we cannot use the concept to our advantage in the face of the current realities. WE MUST HAVE THE STATE TO MOBILIZE OUR YOUTH. And the time is NOW. Not tomorrow.
* We should see development beyond the structures/ buildings we see around us as we approach our cities and urban towns. We should realise that those we beg for assistance are building upwards whilst we are spreading horizontally, taking over all playing fields and green lands. Our waterways are blocked with dwelling places while we spend millions of cedis to clear waterways for development projects. The STATE must be actively involved in the provision of HOUSES for the majority of our people. We must plan our cities and urban towns. The struggle by every one to own a mansion will not take us to our destination.
* We should stop the blame game and resolve to live within our means. Modesty should guide all our undertakings.
* We should wean ourselves of the beggar syndrome and make full use of the many talents we have around and depend less on foreign consultants.
* Our Engineers should get out of the office into the field to supervise on-going projects. Don't we see the Chinese and Korean Engineers in Shorts and T-Shirts supervising their workers? Get our Professors in Engineering from KNUST to the field at the AVEYIME RICE PROJECT, and other such abandoned projects, to get the machines working. We CANNOT allow the AVEYIME RICE PROJECT to go the way projects started in the first Republic went.
* People in leadership positions should practice what they say and preach and be good examples to the youth.
* Our independence is meaningless unless it is linked up with the total well being of ALL the citizenry and NOT only the few who belong to the ruling party.
* That should be our RESOLVE; otherwise we stand to be condemned by generations yet unborn.
CONCLUSION

As we enter the last years of the second term of the Kufuor Administration, we should look beyond 2008. The President is the Captain of a team leading us to a destination we all aspire to reach within the shortest possible time.
It is submitted that our plans and vision should see beyond our term of service /governance. What is important is to carry the people with us; as long as the citizenry can identify with the programmes/ plans of the government there is nothing that should stop us from pursuing the goals we, as a nation, have set before us.
We should, therefore, individually and collectively, resolve to free our minds of all colonial mentality and be proud of ourselves as Ghanaians and take note that our destiny is in our own hands and not others.
As we celebrate our 50th Anniversary may we all pray for Long life for the Republic of Ghana and the souls of our great visionary leaders.
May God continue to bless us all.