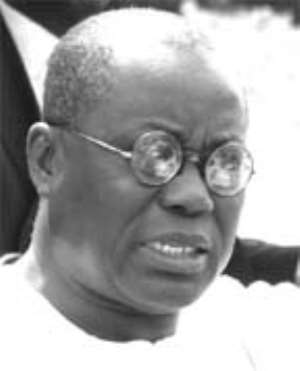 The government has introduced the New Partnership for Africa's Development (NEPAD) issues into the syllabuses of senior secondary schools in the country as part of steps to educate students on the NEPAD programme in Ghana.
A workshop was therefore organised in March to adequately prepare teachers to effectively impart the concept of NEPAD and the African Peer Review Mechanism (APRM) to their students.
This was announced by the Deputy Minister of Foreign Affairs, Regional Co-operation and NEPAD, Mr Akwasi Osei-Adjei, at the opening of a NEPAD communications cluster workshop in Accra on Wednesday.
The two-day workshop is being organised by the NEPAD Secretariat in collaboration with the United Nations Economic Commission for Africa (UNECA) with the support of the German Development Agency (GTZ).
The main purpose of the workshop is to develop a communication strategy for development, which will bring together development stakeholders on the continent. Its outcome will be linked to the work of the United Nations Communications Cluster System.
The Deputy Minister emphasised that NEPAD and the APRM process held a lot of prospects for the revival of the African continent.
"African countries should therefore fully integrate NEPAD sectorial priorities into their national development plans to ensure that, together, we are able to achieve the desired collective goals", he stressed.
He said due to the acceptance of the ideals of NEPAD by African countries, dictatorial practices and authoritarian regimes were being phased out in many parts of Africa.
"Instability is eroding in the face of the structures of stability, and an increasing number of African governments now adhere to the fundamental values of respect of human dignity, justice and accountability", Mr Osei-Adjei said.
He used Ghana as an example of a country that offered herself as the first African country to undergo self-assessment and constructive peer dialogue under the review mechanism.
The process, he said, was quite fruitful inasmuch as it exposed several truths about the country and provided it with choices to better manage its democracy and political, economic and management governance as well as socio-economic development.
In the international arena, he said, the review which had currently been embraced by various countries in Africa had demonstrated that the continent was now serious to back its words with action.
Mr Osei-Adjei expressed the view that the commitment being exhibited by the continent was necessary to undertake various sectorial strategies for its development and required the assistance of the international community through extra resources within a framework of genuine global partnership.
"Support is required in areas such as agriculture, human resource development, including health, education, science and technology, infrastructure development and diversified economic production and accelerated export trade".
He called on African governments to join forces to impart influence resolution of the issue of market access, agricultural and export subsidies and the removal of other unfair practices that prevail in the current trade regime.
Story By Donald Ato Dapatem