JJ Rawlings arrives in Den Hague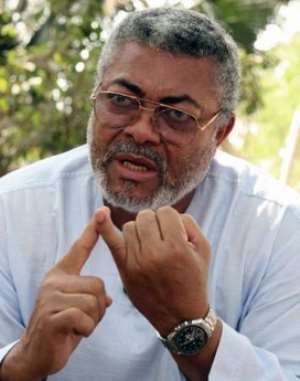 The former president of Ghana, retired Flt Lt. John Jerry Rawlings
The former president of Ghana, retired Flt Lt. John Jerry Rawlings arrived in the Netherlands today to participate in the Africa day scheduled to take place on saturday,the 14 april, 2007, in Den Hague.
The Africa Day is one of the biggest Dutch Events that focuses on the development and cooperation in Africa.Many guest speakers from the Netherlands ,Ghana, South-Africa, Kenya, Uganda, Liberia and Benin will take part in the Africa Day's Forum. This year, retired Flt Lt. Jerry Rawlings (former President of Ghana), Mr. Bert Koenders (Minister of Development Cooperation) and Dr. Mo Ibrahim (founder of Celtel) are among our keynote speakers,about1500 visitors are expected to attend this event.

The NDC branch in Amsterdam-Netherlands were at the Schipol Airport to welcome the founder the the National Democratic Congress, a bonquet of flowers was presented to the former president by Miss Dede Armah. Some of the members of the Interim Executive and NDC Party faithfuls who were present includes Mr Pat Dogbe (Uncle Pat) chairman, Mr P.A.S. Quarshie,the Director of operations,Anita Arthur-nyann (Women Organiser), Babara williams (Financial Secretary) Madam Gifty Manukure(WISPA,Director), Mr.Frank Bonney, Nii Patapa and others.
The former president John Jerry Rawlings was accompanied by the former Deputy Defence Minister,Dr.Tony Aidoo.
John MacNally-Boateng (Radio recogin)
www.recogin.com