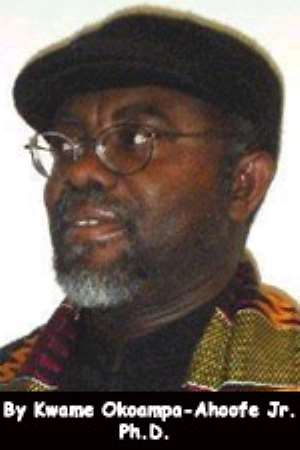 As a rule, I rarely bother to visit the chat-room of Ghanaweb.com, because the bulk of what passes for unfettered debate in that forum is almost invariably about personal invectives and abject obscenities, of the kind that one may ordinarily not associate with a civilized and an enlightened culture.
Perhaps most of the "discussants" recognize this fact, thus their religious maintenance of authorial anonymity.
Recently, however, a quite historically enriching article authored by Mr. Eric Kwasi Bottah (alias Oyokoba), a Ghanaweb chat-room regular who defies the aforementioned lowly norm, was posted to that website. The said article prompted me to wonder about exactly what sorts of comments, or feedback, it had likely elicited. Not that I expected anything particularly refreshing, for my own personal experience with this forum told me that the Ghanaweb chat-room was largely composed of the kind of ideological fanatics that would definitely make Alhaji Osama Bin Laden proud. In this instance, however, the metaphorical Bin Laden happened to be a man called Mr. Kwame Nkrumah, a man who was not even born on a Saturday, as his personal, Akan "Day-Name" readily suggested. We would, however, reserve the intriguing subject of nominal masquerade for another write-up in the near future.
The article in question was titled "Danquah versus Nkrumah: Talking of Patrons and Traitors of Ghana" (4/10/07). And what was quite fascinating about the feedback garnered from the Ghanaweb chat-room on this particular occasion, was the adamant refusal of a bevy of ideological charlatans parading under the lurid label of "Nkrumacrats" to accept the patent fact that they were perpetual losers for their irresponsible choice of a hero of our modern, democratic and civilized world. I suppose slavishly branding themselves as "Nkrumacrats" is another dastardly attempt by these impudent cult-worshippers to co-opt the salutary ideological praxis of "Democracy" and deviously repackage it as the veritable mintage – or invention – of their Lord Protector, an anti-monarchical pseudo-chieftain who, ironically, sported the rather oversized title of "Osagyefo," a nationalist redeemer.
But that this modern-day Anti-Christ – or perhaps even more appositely, Pseudo-Christ/Counter-Christ – was anything but a "nationalist," is glaringly evident from a vacuous legacy that his followers are wont to pretending that he bequeathed the citizens of Ghana called "Nkrumaism." In other words, for his largely grizzled and fast-thinning disciples, "Nkrumaism," or the primitivist cult-of-personality is synonymous with "African Nationalism."
Thus, when Ghanaian parliamentary representative, or Member of Parliament (MP), Dr. Papa Kwesi Nduom exuberantly writes in the Ghanaweb chat-room that: "As for Nkrumah, he will win again and again because there are many of us who are ready any time to set the records straight," it is not clear just what the sometime American-trained businessman-turned-pseudo-Nkrumaist politician is talking about, particularly since a half-century after Britain ceded political sovereignty to Ghana, the only cultural legacy – sociopolitical and cultural legacy, that is – worth talking about is only that which Drs. Danquah, Busia, Asafu-Adjaye, DeGraft-Johnson, Kurankye-Taylor, and Messrs. Grant, Koi Larbi and Obetsebi-Lamptey, among a legion others, fought and died for.
In sum, while, indeed, "Dr." Kwame Nkrumah might have won the purely localized and theatrical battle for independence, Jibowu Commission and all, the larger and far more enduring war in defense of Democracy and the inalienable human rights of the Ghanaian subject was incontrovertibly and indefeasibly won by DR. Kwame Kyeretwie Boakye-Danquah!
And then also, one wonders what Papa Kwesi Nduom, an Nkrumaist sore-loser, is doing in the cabinet of a Danquahist government rather than contending himself with a shadow-cabinet "appointment" in the rump and pathologically nihilistic Convention People's Party. And did I hear anybody whisper about people who hold forth with a forked tongue?
It is also quite intriguing when Dr. Nduom snaps at Mr. Bottah, the writer of the article under discussion in these imperious and intemperate terms: "This is the sort of writing we can do without. If you want to promote Danquah, go ahead with positives. But you will not accomplish much by trying to run Nkrumah down. Please get over the past. Nkrumah did his best for Ghana, Africa and the world. He was not perfect. Neither was Danquah. I am not perfect and neither are you. But, none of us deserve[s] the cruelty of being unfairly branded a traitor."
Now, let's get this straight: Nkrumah did his best for Kwame Nkrumah, which is why as President the man maintained no fixed salary. Ghana, in sum, was Nkrumah's piggybank, his oyster, having also piggybacked on Danquah to clinch the Golden Fleece! Oh no, Sekou Nkrumah, you will never win again and again! For, Ghana is no Togo, Cuba, Korea or the Congo DR! Nkrumah was a KGB stooge and spy! Talk "Nkrumaism" to Jomo Kenyatta and Julius Nyerere and Sylvanus Olympio! Come on, talk!
Then again, isn't it immitigably hypocritical on Papa Kwesi Nduom's part, to pretend abject ignorance about criminal and unfounded charges of CIA indulgence on the part of Dr. Danquah, as nefariously propagated by Mr. Nkrumah and his lackeys? And so it is only Nkrumah who does not "deserve the cruelty of being unfairly branded a traitor"? How so, when the African Show Boy allowed the Russians to set up their KGB Headquarters in Accra?
Indeed, ought Western Imperialism be exchanged for Eastern Imperialism? And then again, what was so "Pan-Africanist" about an African leader who used the KGB to destabilize the governments of other highly respected African leaders like Jomo Kenyatta, Julius Nyerere and Tafawa Balewa? And even Sylvanus Olympio, right in front of our nostrils?
Really, "the independence of Ghana is meaningless, unless it is linked up with the total NKRUMACRATIZATION of the African continent." And don't you like the unmistakable analogy with Robert Mugabe's Zimbabwe, or do you? True, "Ghanaians [which Ghanaians, by the way?] sometimes like to walk over others with spikes under their shoes to get what they want." Agreed, Papa Kwesi; Nkrumah had to brutally assassinate Dr. Danquah a la PDA, in order to do his best for Ghana, Africa and the world! Then again, who gave "Ghana" back to her ancient self? Long Live the Twafohene! Long Live Our Property-Owning, Multi-Party Democracy! Long Live the Voice of Prophecy!
*Kwame Okoampa-Ahoofe, Jr., Ph.D., teaches English and Journalism at Nassau Community College of the State University of New York, Garden City. He is the author of "Dr. J. B. Danquah: Architect of Modern Ghana." E-mail: [email protected]