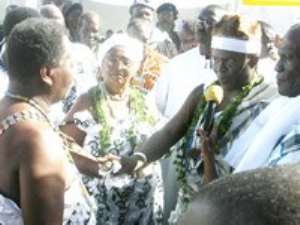 A member of the Planning Committee for the Coronation of the new Ga Mantse, Ms Sarah-Lynn Mansaray, assures the nation that the installation of the new Ga Mantse would be peaceful.
Ms. Mansaray was briefing the media in Accra about programmes and activities lined up for the final installation ceremony in line with Ga customs and traditions.
She said the programme would come off as scheduled, beginning with a display from the various Asafo companies within the Ga traditional area and the firing of muskets to add pomp to the outdooring of the new Ga Mantse.
She said the occasion would be used to portray the rich Ga customs and culture to the rest of the country and also remind the Ga people of their rich heritage.
Ms Mansaray announced that President John Agyekum Kufuor, chiefs and other traditional leaders have been invited from all over the country to witness the event.
Mr. Ben Aryee Ayitey, also a member of the Planning Committee dispelled doubts raised by some media personnel at the press conference as to the legitimacy of Dr Joe Blankson as the new Ga Mantse with regard to the concerns expressed by Nii Yaote Oto-Ga II, Ga Dzaasetse.
He said the programme planned for the coronation was coming on and assured the public to be patient.
Among those present at the briefing were some members of the Ga traditional council, including Nii Adotey Obour II, Sempe Mantse, Nii Kojo Ababio IV, Ngeleshie Mantse, Numo Tete II, Nai Wulomo, King Odaifio Weleutsi, Nungua Mantse and Nii Tetteh Ashong IV, Ga Seitse.
Source: GNA