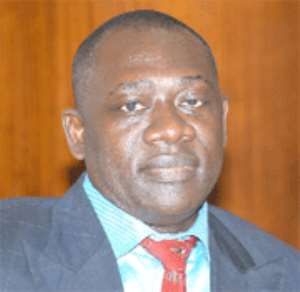 Osei Bonsu Amoah, Deputy Minister of Education, Science and Sports, says the much awaited Sports Bill is practically completed.
"Plans are far advanced for the Bill to be sent to stakeholders for final observation and inputs."
He told the GNA Sports that the bill would be presented to Cabinet for a critical look before it is sent to Parliament for consideration and passage when the National Assembly reconvenes next month.
The Deputy Minister mentioned ambush marketing and health and safety measures at the stadia as some of the key points in the bill.
He said the bill would take sports merchandising to the right level as it would eliminate pirates and reward genuine investors and the sporting associations and clubs.
He said all parameters that would make the country meet modern trends in sports management and administration would be provided in the new bill.
The compulsory registration of all associations under the National Sports Council (NSC) with the Registrar General's Department as corporate entities limited by guarantees is also among the key points of the new Bill.
There is also a provision in the bill which would guarantee tax rebate for companies which support sports in Ghana as a social responsibility function.
Amoah was convinced that the passage of the bill would contribute positively to the growth of sports in Ghana and is relishing the passage of the bill before the African Cup of Nations (CAN) to be hosted by Ghana early next year to enable the country to profit from merchandising before, during and after the biennial event.