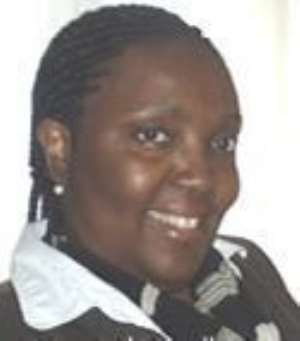 Miss Georgette Dede Djaba, the lawyer at the centre of the controversial suit seeking to prosecute former President Rawlings now says she wants to stand for president.
In mails she posted to an acquaintance in Accra dated April 11, she said she intends to contest the presidency because she sees no "woman of substance contesting for the top position."
"I am formally declaring my intention to stand as an independent candidate in the forthcoming presidential elections 2008. As we in the Diaspora now have a vote, it is my intention to contest as I do not see any woman of substance contesting for the top position."
Miss Djaba said she intends to stand under her pseudonym, Miss Ama Amankwaa Afrifa and since she does not yet have a constituency, she will be hoping that the UK will be a Constituency. "If not then it will be in the Yilo Osudoku area."
She told the acquaintance she would be releasing a properly drafted press release and hoped news about her intents for the presidency "is better and bigger than all
the breaking news put together."
Miss Georgette Dede Djaba said she would have for her vice president, "a former Flight Sgt. in the Ghana Army (from the Sunyani area).
"My campaign Manager is Frank Anim, aka DJ Tee Pee of Manjaro Nite Club, London" and for Public Relations Officers "Flora Dugbartey, Kwasi Kyei Darkwa and Bishop Frimpong Manso's wife – Nana Yaa Frimpong Manso, (formerly of the Ghana Air Force).
She said her "campaign is mirrored on the Hilary Clinton campaign as per her website" and wondered if Ghana ready for a female president and vice-president.
Miss Djaba says she is suing former President Rawlings and his wife, Nana Konadu Agyemang Rawlings over human rights crimes during Rawlings' rule of the country.