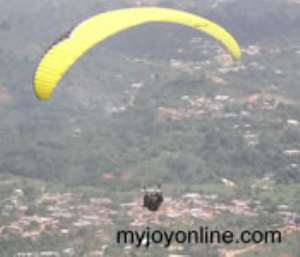 The Minister of Tourism and Diasporan Relations, Mr. Jake Obetsebi Lamptey has been honoured by the Chief and people of the Kwahu traditional area, who have named the site of the Hang and Paragliding Festival at Atibie after him.
The chiefs bestowed the honour on Jake on Friday during the opening of this year's festival, the third since its inception.
The Tourism Minister is credited with conceptualizing and bringing the annual festival to fruition after visiting the Kwahu South District some four years ago.
Jake Obetsebi Lamptey had visited Kwawu and with the then District Chief Executive, Raymond Osafo Djan, toured the area where he recommended that the Kwawu Ridge, given its natural settings of hills, rivers, and serene atmosphere, could host such an adventure as paragliding and also serve as a tourist hideaway.
The Tourism Minister has since pursued the dream to establish paragliding as an annual festival which has since seen a growing following at Atibie.
The festival has also come to be known as the Ferdinand Ayim Hang and Paragliding Festival.
The late Ayim, who was the Tourism Minister's Special Assistant, died last year in a motor accident while helping to organise the 2006 edition.