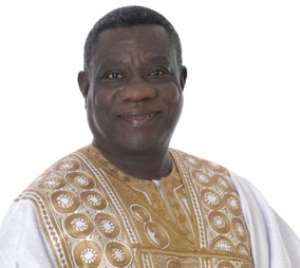 The office of Professor John Evans Atta Mills says it regrets the outright rejection by government offers from the NDC to help solve the crippling energy crisis.
A statement signed by Koku Anyidoho, in-charge of Mills'office Communications noted that the office had taken notice of the hurriedly put together press conference by the NPP to respond to the NDC Presidential Candidate's cogent analysis of the current energy crisis as well as his suggestions for the way forward.
"It is extremely regrettable, the posturing of Energy Minister, Joseph Adda, especially as regards the NPP's throwing away of the NDC's preparedness to help examine the issues from a nationalistic and holistic perspective."
The statement said Professor Mills stands by the facts and figures he put out at his Press Conference on April 04, 2007, and would not be drawn into any unnecessary war of words that will divert attention away from the core issue of getting the country out of the darkness.
The statement said Ghanaians want the crippling and suffocating energy crisis they are saddled with to be solved by President Kufuor and his NPP government without delay, and would certainly be pleased if they are spared the political rhetoric and insincere timelines that continue to be set.
"It is electricity the people of Ghana need and President Kufuor and his NPP government must stop the talk and walk the walk."
Meanwhile the National Democratic Congress (NDC) also on Friday condemned what it said was attempts by the Government and New Patriotic Party (NPP) functionaries to divert discussion on the energy crisis.

In a statement signed by Dr Kwabena Adjei, National Chairman, the NDC said it had observed without surprise attempts by the NPP to divert attention from the debilitating energy crisis that the country is saddled with.

The NDC had also taken note of the failure of President John Agyekum Kufuor and the Government "to keep faith with their numerous promises to solve the problem," it said.

The party expressed concern about a section of the media, which it said had taken bits and pieces of "what they might have heard" at the "second Family Meeting" of the NDC on Tuesday, and had added "their diabolical spin to suit their diversionary agenda".

The statement said, "The words, phrases and statement" attributed to certain NDC personalities "emanate more from the figments of their imagination than from what was actually said at the Family Meeting".

"The NDC remains more united than ever and is poised for the beckoning 2008 electoral victory", the statement said.

The leadership of the party urged NDC members not to be distracted by any vile propaganda until victory in December 2008.