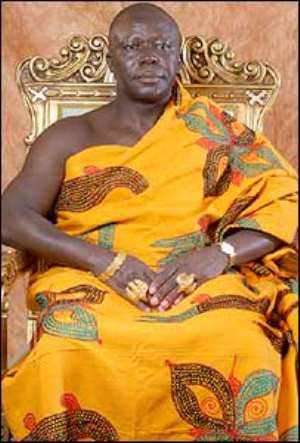 Kumasi, the Ashanti Regional capital went gay on Thursday morning when the Asantehene, Otumfuo Osei Tutu II stepped out to inspect a number of projects under construction.
The King, widely rumoured to have died for about a fortnight now, waved back at a large, satisfied crowd that followed his entourage and sang his appellations.
In spite of persistent denials of his death from his Manhyia Palace, many had held on to their own convictions, and an early morning downpour that threatened to postpone the planned tour of projects only helped to mystify the rumour.
The tour is his first outing after the Independence Parade of 6th March.
But at about 11am, the Otumfuo and his entourage, including the Regional Minister E.A. Owusu-Ansah and the Metropolitan CEO, Madam Patricia Appiagyei as well as a large media presence, stepped out for the inspection.
He visited the centre of the city to observe progress made on the Kejetia/Adum decongestion exercise, the Baba Yara Sports Stadium, the City Hotel Complex refurbishment and the Asafo Interchange.
Contractors at the City Hotel refurbishment project assured the Otumfuo that they would complete and hand over the project by December, while those working on the Interchange asked for yet another extension to complete the job by June.
Otumfuo advised them to ensure the project is devoid of any structural defects since the people have gone through a lot of inconvenience while the project, two years behind schedule, has drags on.
The crowds waved and shouted 'Nana o! Nana o!' as he moved from one project to the other.
The Otumfuo was to complete his tour with a visit to the Wood Village at Sokoban.