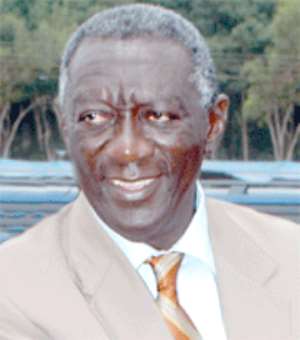 The Golden Jubilee celebrations have demonstrated that though the planning was not the best, we were able to put up a good show. 
As we march on to 75 years of independence, we should not be saddled again with any lousy planning and preparation. 
Every Ghanaian expects that come the Diamond Jubilee celebrations, the story will be quite different.
As we march into the third quarter of a century of our independence, the nation will not have to grapple with any form of energy crisis. The nation will still not have to depend on the Akosombo Dam for its main source of energy supply.
Our experts must concentrate on how to develop other sources of energy, especially nuclear power. Electricity consumers have the duty of ensuring that they use energy-conserving gadgets. 
We must also find a way of checking the influx of cheap and inferior- quality electrical appliances on our markets.
When we come to celebrate 75 years as a nation, Ghanaians will be happy to hear that agricultural produce will not rot at the farm gates; our agriculture will not be rain-fed and Ghanaian farmers will be exporting rice to other countries. 
Again, we will have enough storage facilities to keep the food items we cannot consume immediately. There will be more factories to process the leftover produce from the farms.
As we look ahead, we should put in place measures that will inspire us to excel and be proud to be Ghanaians. This means that we must encourage ourselves to be self-reliant. 
Our educational programmes must ensure that our graduates become self-employed and our priority should be to reduce the level of unemployment in the country.
In the area of tourism, we should be able to raise our tourism consciousness so that the majority of the citizens will participate in domestic leisure. 
It is my candid view that with such exposure to other parts of Ghana, Ghanaians will know their country and other tribes better.
Ghanaians should remember that Ghana can move forward only if we change our attitudes. We have to honour and acknowledge the efforts of any Ghanaian, more especially our women. Any practice that negatively affects our women and children especially should be abolished. 
These and many more are the aspirations of the people and in the next 25 years, those who will be alive will say that indeed Ghana has moved forward in its development as a nation. 
Theophilus Nartey, Cape Coast.