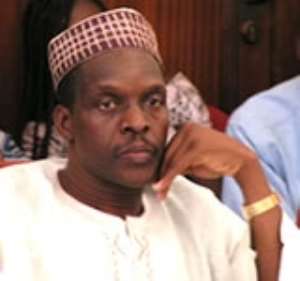 The Minority leader, Hon. Bagbin of the NDC has said that the NDC will win the next elections and are ready to expose any election rigging by the NPP.
He said that although the party knows how to steal best the NDC will not allow the elections to go on without gazette results as in 2004.
Hon. Bagbin said that the NDC is sure to win the next elections as the people have come to realize that the NPP is a nightmare and must be driven out.
They make it difficult for people to debate in parliament and for parliament therefore to fond solutions to parliament.
The NPP, he continued is made up of people who have "no certificates" and who are arrogant and pompous and this has led them to suffer for paranoia. Their Presidency is only an opportunity for looting.
Hon. Bagbin was speaking at a seminar in Winneba.
Hon. Iddrisu, a main speaker at the seminar and also the member of the Select Co0mmitttee and Energy said that the NPP government is irresponsible and has plunged the country into and energy crisis which will not be able to be solved until 2009.
The NDC leader said that the NDC were sensitive to the peoples needs and that they therefore turn away from the use of hydropower and use thermal power. He said also that the NPP have not been able to add one Megawatt to the 500 megawatts they inherited form the NDC.
Speaking in corruption, Hon. Bagbin said that the Office of Accountability is a self running office and he challenges the President to come to parliament and explain its legality.
He also asked the President to apologize to the people on VAT and the GETfund that their positions were irresponsible.
Also present was the regional Ashanti Chairman of the NDC, Nana Ohene Agyekum, who asked all to support the good causes which the party stands for.
He asked people to stand up against corruption and that 2008 is a do or die affair.