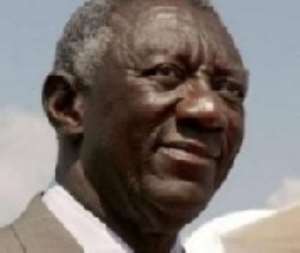 President John Agyekum Kufuor has hailed the recent elections in Senegal at which President Abdoulaye Wade was re-elected and said it was a milestone in the continent's progress towards entrenching democracy.

"We have cause to be optimistic about the future of Africa. A new African civilization, the hallmarks of which are respect for human rights, democracy and prosperity has been launched."

President Kufuor, the Chairman of the African Union, was speaking at the inauguration of President Wade for a second five-year term at a big ceremony at the Leopold Senghor Stadium in Dakar on Tuesday.

Several Heads of State attended the inauguration and they included President Olusegun Obasanjo of Nigeria, the Libyan Leader Colonel Muammar Gaddafi, President Hosni Mubarak of Egypt, Ethiopia Prime Minister Meles Zenawi, President Ellen Johnson-Sirleaf of Liberia and Burkina Faso President Blaise Campaore.

The others were President Sassou Nguesso of Congo, President Thomas Yayi Boni of Benin, President Omar Bongo of Gabon, President Faure Gnassingbe of Togo, President Amadou Toumane Toure of Mali, President Ahmed Tejan Kabbah of Sierra Leone and Equatorial Guinea President Theodore Nguema Obian Mbasongo.

The Senegalese leader polled 56 per cent of the votes in the February 25 election to beat 14 other contestants.

He came to power seven years ago when his Senegalese Democratic Party (PDS) defeated the Socialist Party that had dominated the West Africa country's political scene for 40 years.

President Kufuor said in laying down the foundation for peace and development for generations to come, African leaders were giving meaning to their aspirations for Africa's unity.

He paid tribute to President Wade's leadership qualities, which he said, were deeply rooted in his sense of commitment towards the ideals of the continent's integration.

United States President George Bush, in a congratulatory message read at the ceremony, said the election showed Senegal's commitment to democracy.

He said he looked forward to strengthening and deepening the partnership between Senegal and the US.

President Obasanjo said "This is a clear demonstration of your faith in the democratic process."

President Wade swore the Oath of Office before the five-member Constitutional Council and pledged to uphold the constitution of his country.

He said he would vigorously pursue the cause of African unity.

Senegal has some 65 political parties and most of them are marginal and little more than platforms for their leaders.