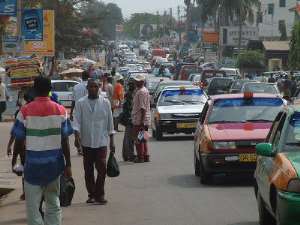 The Ghana Road Transport Coordinating Council (GRTCC) on Wednesday announced new transport fares for its members following the increase in fuel prices to reflect world market trends.
A statement jointly signed by the Vice Chairman, Nana Danso and Mr Stephen Okudzeto, Council Member, said the Council was however disappointed with the deliberate sidelining of the major stakeholders any time there was an increase in fuel prices, even though the Chief Executive of the National Petroleum Authority's (NPA) attention had been drawn to such lapses in the past.
It said the NPA apologized and gave the assurance that it would inform the GRTCC prior to the announcement of fuel adjustments in future to enable the council to come out simultaneously with the fare adjustments when it became necessary.
The council therefore appealed to the NPA to find a way to co-exist with the stakeholders to avoid any future embarrassment. The council however, directed its members to provide the fare adjustment list in the various loading stations for the consumption of the general public.
It asked the public to feel free to contact any office of the Road Transport organizations when they were in any difficulty. It said 100 cedis was to be added to existing trotro fares ranging from 1000 cedis to 2,000 cedis and 200 cedis should be added all fares 2100 to 4,000 cedis.
The statement said 300 cedis was to be added to fares ranging from 4,100 cedis to 5,300 cedis.
Others from 5,400 cedis and beyond attracted 400 cedis. On long distances, the council said fares ranging from 8,000 to 10,500 attracted an increase of 500 cedis.
Journey's where 11,000 cedis to 19,500 were charged, a 1,000 cedis was to be added, the statement said and asked the travelling public to consult the transport officials when they were in difficulty or felt cheated.
Fuel prices were increased on Sunday April 1, to reflect the increases in crude oil over the last three months. Stakeholders however described the increase as marginal.