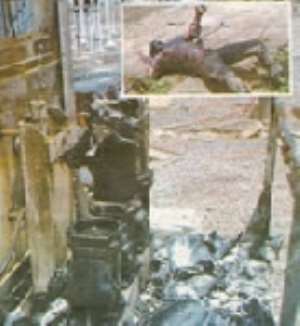 The increasing activities of cable thieves are thwarting the efforts of the Electricity Company of Ghana (ECG) to provide electricity for its customers.
A source at the ECG Headquarters said last Saturday that one such cable thief got burnt behind the Tema Oil Refinery (TOR) while attempting to steal electricity cables.
According to the source, the thieves had dug a trench of about 30 metres long and three feet deep to unearth a 33KV (high voltage) underground cable, resulting in the disconnection of power supply to Ashaiman and Tema.
He said the thieves apparently took advantage of the load-shedding programme but unfortunately, luck ran out for one of them when he could not escape the high voltage cable buried underground as he attempted to cut it.
Four ECG workers who were at the main station 'H' to undertake routine switching got hurt when the circuit breaker exploded as a result of the disruption caused by the thieves.
Two of the victims were treated and discharged at the Narh-Bita Hospital in Tema, while the other two who were seriously injured were rushed to the Korle-Bu Teaching Hospital in Accra.
Fire fighters from the Ghana National Fire Service, the Volta River Authority and the Ghana Ports and Harbours Authority put out the fire which resulted from the explosion.
In another development, two thieves who also stole 400 metres of aluminium conductors at Nkroful in the Nzema District of the Western Region are each serving a four year term of imprisonment with hard labour.
Another suspected cable thief is in the grips of the police in Accra after a driver had caused his arrest.
In a statement, the Managing Director of the ECG, Mr Jude Osafo Adu-Amankwah, expressed concern about the activities of cable thieves, describing them as saboteurs.
The statement said the cables were very expensive and necessary for the improvement of the system to enable the company to deriver quality and safe supply of electricity to customers.
Credit: Daily Graphic