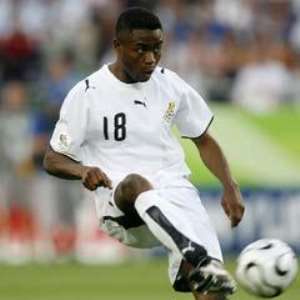 Eric Addo will leave PSV Eindhoven at the end of the current season
PSV Eindhoven midfielder Eric Addo has revealed that he will leave the Dutch club at the end of the current season.
PSV face Liverpool in the quarterfinals of the UEFA Champions League tonight but Addo, currently nothing more than a fringe player for the Dutch champions, is unlikely to feature in the match.
And it is the lack of first team opportunities – which could cost the 28-year-old his place in the Black Stars team ahead of the 2008 MTN Africa Cup of Nations finals in Ghana – that Addo has cited as his reason for wanting to leave Eindhoven.
"I will not extend my contract with PSV because things are not improving here for me," Addo told BBC Sport. "The Nations Cup is getting close and if I have to stay I should be guaranteed more playing time to be fit for the tournament in Ghana.
"PSV understand my situation and they have agreed to allow me to leave at the end of the season."
Addo was instrumental in the club's title win last season but has seen little first team action this term.
He has been on the bench as PSV have marched towards retaining their Dutch title and won a place in the last eight of the UEFA Champions League.
"Even though PSV is a big club it is a different feeling to be on the bench," Addo said.
"I have been patient but sometimes I think I deserve to play but I am ignored.
"I am not satisfied with the ten minutes I play for each game so I am looking elsewhere for playing opportunities."
Addo was hampered by a knee injury in 2000 after his record US$7.3 million move from Belgium's Club Brugge where he had won the Young Player of the Year Award in 1998 and was viewed as a potential superstar.
He recovered and spent two seasons on loan with rivals Roda JC Kerkrade in 2002 before returning to PSV in 2004.