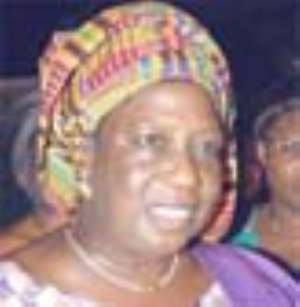 VICE PRESIDENT Alhaji Aliu Mahama has consoled the family of the late Hawa Yakubu, asking its members to take heart and see her death as the will of God.
Describing the late Hawa Yakubu as a political stalwart who served her community with distinction, Alhaji Mahama said her death came as a shock to the whole community.
However, he had words of encouragement:
"Even though Hawa Yakubu's death is painful, you should take heart because Allah knows best and does his things in a mysterious way and does not consult," he said with passion, when he called on the Bawku Naba, Abogri Abugrago Azoka and the family of the late Madam Hawa Yakubu at Pusiga.
The late Hawa Yakubu who died of cancer at the age of 59 in London, was the First National Vice Chairman of the New Patriotic Party (NPP).
Alhaji Mahama used the platform to preach a sermon on peace: "We will all die one day no matter how strong, rich and important we are. So why should we bully and threaten each other?"
Reminding them that they were one people with a common destiny, the Vice President expressed the need for the people to love one another and live in peace, urging them to keep praying for the departed soul and ensure a peaceful burial service.
The head of the family, Abdulai Bawa and Naba Azuka expressed their appreciation to the Vice President for sympathising with the family and observed that the Vice President's cry for peace was appropriate.
Alhaji Mahama, who was accompanied by the General Secretary of the NPP, Nana Ohene Ntow, the Upper East Regional Minister, Boniface Gambilla, the Northern Regional Minister, Mustapha Iddris, MP for Navorongo Central, Kofi Addae, C. K. Tedem, Francis Aforka and members of the Council of State, also attended the funeral of Alhaji TUC Abdulai Bawa the regional chairman of NPP.