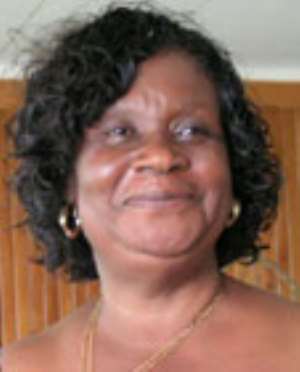 THE MEMBER of Parliament for Abirem, Mrs. Esther Obeng Dapaah has refuted the notion that Members of Parliament intentionally absent themselves from parliamentary sittings.
She said MPs work tirelessly almost everyday so when they are not captured by the media in Parliament it does not mean they have absented themselves from Parliament. "They might be probably working seriously elsewhere", she said
Mrs. Dapaah, stated this during a public forum on parliamentary procedures by members of the Committee on Subsidiary Legislation of Parliament at Koforidua recently. The forum was organized by the Centre for Democracy Development (C.D.D) to educate the public on subsidiary legislation.
She said "sometimes people do not see some of us at the floor of the House and they think we have been absenting ourselves from the House.
"Since we work at committee levels where we debate a lot on bills before presenting them at the floor of the House, we may be sitting at committee level working seriously to satisfy time given," she explained.
She elaborated that various committees have limited time frame of 21 days to debate issues and bills and present them to the House and that the failure to present such a bill within the time given them, nullifies the bill's presentation to the House.
Mr. Kwasi Bandua, the Vice Chairman of the Committee and MP for Biakoye, explained that the Committee only reviews laws and does not tackle the substance of the laws, to ensure that when passed, they would not get into conflict with the parent laws.
Another member of the Committee and MP for Wa West, Mr. Joseph Yieleh Chireh urged all to, as much as possible, have insight into the country's laws.
The MP appealed to the government to resource the various Committees of Parliament to enable them hold public forums to educate the people about existing laws.
The Chairman of the Committee, Mr. Francis Agbotse and MP for Ho West, said people see them debating seriously as majority and minority when they disagree on issues.
But most of the bills come by compromise because most of them are discussed at Committee levels. "When you see us debating seriously on the floor, don't think we are fighting but making sure that bills passed into laws are done properly and above all, we are friends", he pointed out.
Asked whether the Speaker discriminates amongst the Majority and Minority, Mr. Agbotse replied that the Speaker gives equal attention to both sides of the House.