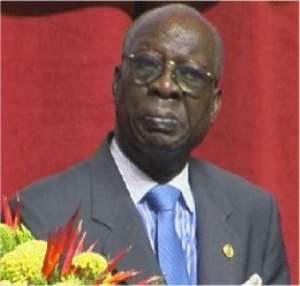 Former Speaker of Parliament, Mr Peter Ala Adjetey on Monday said political vibrancy was not attained through shouting and meaningless slogans but through proper research for the electorate to make informed decisions.

"Since political parties compete for the minds of the electorate who exercise a choice between the policies of different parties, well thought-out policies born out of painstaking research should be placed before them to make such informed choices," he said.

Mr Adjetey was speaking at a follow-up meeting between the leaders of Togolese and Ghanaian political parties in Accra on the theme: "Political Parties as Vibrant Actors in a Multiparty Democracy."

He said an examination of the activities of political parties in the West Africa sub-region gave the impression that policy papers were hardly issued by political parties, especially those in opposition, in order to inform the voting public of what policies they intended to pursue in specific areas of national development when they were entrusted with political power.

He warned that if political parties failed to discharge such duties, they should not be surprised if voters took decisions from time to time which would seem to "fly the face of political and economic logic".

Mr Adjetey urged political parties to cooperate among themselves saying, "If you consider a person as a nation wrecker, it is not difficult to move from that position to a position in which you would want that person eliminated or you would put serious obstacles in his way to make it impossible for him to operate at the political level."

He called for pragmatic approach towards the funding of political parties by foreigners and suggested such contributions could be made to a non-political and independent organization, which could make such funds available to political parties through their research and investigation departments.

Mr Guy Samzun, Head of Cooperation, European Union, said the increasing number of political parties in the sub-region was not a guarantee for competitive party politics.

He said poverty and illiteracy in the sub-region had weakened political parties' capacities to attract the needed resources for effective political work.

"Political parties are weak in organizational capacity, internal democratic culture, financial resource mobilization and their ability to address the development challenges of their country."

Mr Samzun called for the addressing of the funding of political parties in the country through a clear and transparent manner in order for politicians to be more accountable or avoid corrupt practices.

Brigadier-General Francis Agyemfra (rtd), Senior Fellow, Institute of Economic Affairs (IEA), said the essence of the meeting was to provide a common platform for political parties between the two countries to share ideas and to look at future cooperation in order to sustain the peace between them.

He said the two countries had enjoyed friendly relations for many years and it was unfortunate that recent relations between them could be described as "cat and mouse relationship characterized by war-war".

The follow-up meeting is in fulfilment of a joint communiqué signed between the chairmen of political parties between the two countries last December at which the parties committed themselves to regular and quarterly meetings.
Source: GNA