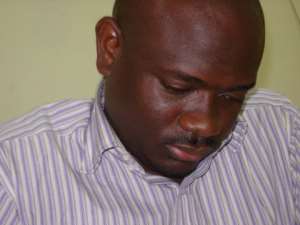 The on-going ECG/VRA 'power denial scheme' which has been moved to 5th gear is brining a lot of untold hardship on especially we the 'poor' and small-end business owners.
For whatever reasons, everybody seems to be talking about the big companies, industries etc, but like we reported in this paper some weeks back, the real people feeling the punch and pinch are the ordinary ones like myself.
Small businesses are set to collapse very soon, because they rely heavily on electricity and the current arrangement means they will be without electricity every 48 hours or thereabout. But you'll be stupid to base your plans on that timetable, because the folks at the ECG control rooms have their own pocket schedules.
These guys, as insensitive and 'care-less' as they are, turn the lights on and off just about anytime, and because we've all been meek for a long time they do not respect our right enough to even forewarn us.
You know one true fact? Many of those guys making all the noise about why this has gone this way and why it is important for us to conserve energy in our homes, are not experiencing the frustration and difficulties we face in these deplorable times.
Why? Because they have generators and are not suffering. If only a lot of the small-end businesses had the funds to afford those generators, they'll continue to be in business by the time it is all over. Just take a trip round and talk to the salon owners, electronic repairers, newspaper printers and publishers etc, and you'll appreciate how the current situation is affecting them.
For me, the scheduled light offs can be pardoned, but the wanton, and careless on-off-on-off attitude and its attendant effects on your gadgets is what annoys me most.
Be it as it may, we must all contribute to helping resolve the problem. A friend of mine strongly holds the view that he is not in the game of conserving anything, so long as he will pay for what he consumes. In other words, there is no reason at all for him to switch his gadgets off when stepping out of home or when they are not in use.
Let's please help, by conserving energy. It is true that the Independence Square and other state structures with thousands of lights beaming at full power are left on, but that should not be enough basis for us to also leave ours on.
Interestingly, the Independence Square is a stone throw from the ECG & VRA head offices and from the seat of government.
The last time I passed around there it was about 1.15am and the lights were beaming bright, lighting the empty seats, the unused toilet and other places. At that very time there was no light in my house and I chose to spend the time with my circulation team to drop of the complimentary and subscription copies of the dailyEXPRSS.
Talking about that, can anybody please help me understand why organisations, institutions and companies that deal with human beings have such annoying signs "taxis not allowed" in front of their yards.
It has never made sense to me, and on this night I am more than convinced that there appears to be very little justification for that. Just take a minute to think about it. Is it the case that the companies with such restrictions want to deal with only persons who have their own vehicles? Is it the case that only taxis are used for criminal activities?
Unfortunately, the number of places you cannot go with taxis keeps increasing everyday. I remember full well, an embarrassing situation at the Accra International Conference Centre many years ago when a respectable lady, whose driver was late decided to rush to the Centre in a taxi in time for a function.
At the gate, the police disregarding the lady entirely, started dragging the driver out of the car, despite the request from the lady for them to sort things out with her. I can understand the action of the police because customer relations is not part of the curricula at the Depot.
It took the intervention of some persons present to get the police to 'slow down' for the lady to be driven to the drop off zone.
On the night under reference, I had the unpleasant duty of having to get down from the taxi, and walk rather long distances to drop of the paper. And it was the same at the ministries, yet, none of the security personnel, all of whom were asleep before we got there, could tell us why taxis are not allowed.
Please, let's stop this disgusting act. Indeed, the reasons I gave to a representative from a bank that wanted me to bring my company account there, that I cannot afford to be getting down and walking a distance of almost 200 meters, let alone subjecting my staff to that treatment.
If they want me to come there, they should allow easy access, just as the hotels do, just as other companies do, because, trust me, there can be no justification for such customer unfriendliness.
NB: Little wonder people are able to break into offices in the Ministries and steal computers and other documents… the security men know how to sleep.