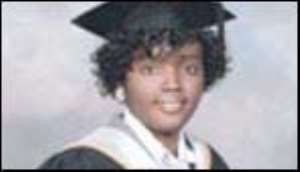 A United Kingdom-based Ghanaian lawyer, Georgette Dede Djaba, has dragged former President Jerry John Rawlings to the London Metropolitan Police for a possible arrest, after filing a case against him.
She has filed a writ against him for what she claims are his gross human rights violations, including the murder of three former heads of state and three High Court Judges during his 11- year military dictatorship.
Ms. Djaba, who described herself as a grand niece of Lt. General Akwasi Amankwa Afrifa, a former Head of State who was among the executed Generals in 1979, said she had given instructions to her lawyers to bring action through the British justice system against Rawlings for mass murders and wanton human rights violations.
She requested that the former President be stripped of his immunity from prosecution to enable him face the law.
In the document filed at the court, copies of which have been served on the London Metropolitan Police Commissioner, Ian Blair, Prime Minister Tony Blair and British Solicitor-General among other human rights groups including the Amnesty International, General Afrifa's niece explained that offences committed by Rawlings during his AFRC and PNDC days were grievous enough to make him face the full rigours of the law.
Ms Djaba stated that she had assembled enough evidence in addition to people who were willing to testify voluntarily in her quest to go down with the former president.
She said Rawlings must be prosecuted for "human rights abuses, mass murders, causing deaths, suffering, deprivation, causing death by firing squad in 1979 of three former heads of state of Ghana, including General Akwasi Amankwa Afrifa, General Ignatius Kutu Acheampong, General F.W.K. Akuffo and an order to be arrested and be prosecuted whilst present in the UK."
She referred to General Pinochet's case in Britain where the former Chilean dictator's immunity was axed, thereby enabling him to face prosecution while visiting London.
However, Benjamin Kumbuor, a member of the legal team of Mr. Rawlings told JoyFM yesterday that the legal team had not been served.
According to him, it was not a new thing for a Ghanaian to make claim of having initiated court action against the former president.
"In this matter of this nature, let's wait and see," he said.
Dr. Kumbuor stated that they would deal with it when it came to them.
Ms. Djaba had told JoyFM that there was no hiding place for the former dictator.
"He can run but he cannot hide," she insisted.
She said she was joined in the suit by other claimants, including her father Henry Djaba, Snr, Hans Djaba, Henry Djaba Jnr and Kwabena Agyepong, son of one of the murdered three High Court judges.
The London-based lawyer has avowed to pursue the case until Mr. Rawlings and his wife are brought to justice.
She explained that Mrs. Rawlings reportedly jubilated when she was informed that the three High Court judges had been "taken care of".
People are ready to testify to the role played by Nana Konadu Agyeman Rawlings in the murder of the judges and the retired Army Officer, she stated and indicated that she would not mind dragging the former first couple to the International Criminal Court of Justice, especially since the case involved torture and murder of individuals.
Recalling how the Generals were executed, she said it was gruesome to watch such a scene, live, on Ghana Broadcasting Corporation (GBC) TV.
People were executed without trial or right of appeal, which was against international conventions, she pointed out.
Stating she had assembled high profile lawyers to handle the case, Ms. Djaba hinted that one of the lawyers who handled the O.J. Simpson case in the United States would be flown in from Los Angeles to beef up her legal team.
The niece of General Afrifa said the effect of the murder on her family was devastating, describing the National Reconciliation Commission (NRC) as a non-starter.
"Reconciling what? There is nothing to reconcile," she stated.