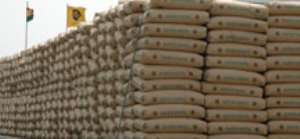 The Ministry of Trade, Industry, Private Sector Development and PSI has stated that there is no restrictions on the importation of cement of any form into the country.

Consequently, it asked any person or company seeking to import cement into the country to do so without any hindrance.
A release signed by the Public Relations Officer, Mr Kodua Edjekumhene, on behalf of the ministry and issued in Accra said, "It has come to the attention' of the Ministry that individuals and com¬panies interested in importing cement into the country are not clear about the existing government policy on the importation of cement into the country.
"The ministry, therefore, wishes to inform the general public that there is no restriction whatsoever on the importation of cement in any form, whether as a finished product or in terms of its raw material component.
It asked any person or company seek¬ing further clarification on this matter to contact the Chief Director of the Ministry.
The country has been hit by a shortage of the product since last year following the inability of the Ghana Cement Works (GHACEM) Limited to produce enough to meet the huge market demand.

The shortage has affected the cost of cement on the market, as prices of the product were being quoted almost twice the original price from the GHACEM factory.
The situation forced the company to advertise that it had not increased the ex-factory price of the product on the market and indicated that the prices varied throughout the country, with the price being 61,000 cedis in Accra, 61,900 cedis in Cape Coast and 79,000 cedis (the highest) in Wa, among others.

Some retailers told the Daily Graphic that it took a month to get a consignment.